Hittin' the Trails
Join Date: Apr 2013
Location: , , .
Posts: 9

Multi-day Trip suggestions - End of June
---
Hello, new user long time reader here.

Looking for suggestions on a ~5 day +/- backpacking trip for the end of June. Prefer to have some alpine component, but I realize that the last week of June may be a bit early for many places. Party is fit and has reasonable experience with multi-day trips, scrambling, mild exposure etc.

Was thinking maybe the rock-wall trail but not sure if this is too early for that.

Or perhaps a route through the south chilcotins, spruce lake park area.

Thanks for any suggestions.
Off the Beaten Path
Join Date: Aug 2004
Location: Salmon Arm, BC, Canada.
Posts: 971

---
Hey J

Rockwall would be mostly open by end of June, but it all depends on how warm and dry the spring is (so far so good, eh!). You're likely to find substantial snowpatches in places across the passes.
High on the Mountain Top
Join Date: Jan 2007
Location: Calgary, , .
Posts: 1,010

---
Most likely you will run into patches of deep snow on Rockwalll, Tumbling and Floe Passes. Shouldn't be too bad if you don't mind some postholing and going to cross those passes in the morning to take use of the melt-freeze effect. Floe Lake CG most likely will be closed for reservation till 2nd week of July.
These photos were taken on July 6 near the highpoint of Rockwall Pass: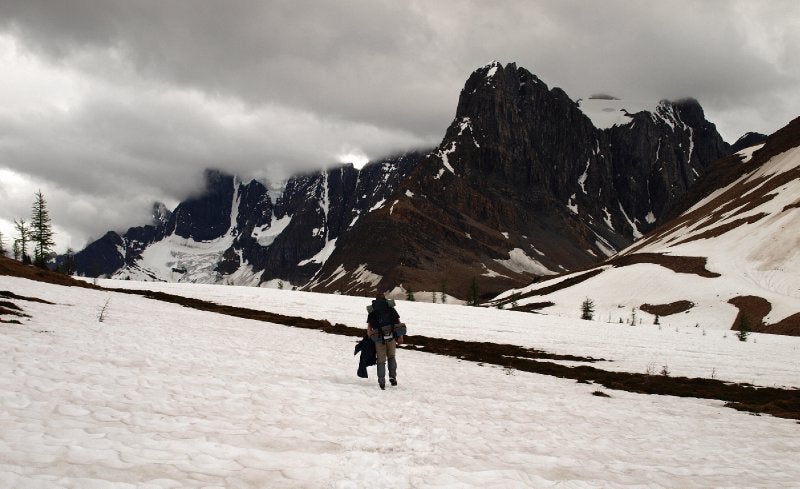 ---
Berg Lake is option if you haven't been there before.
Trail should be snow free and campgrounds dry. Still not so many crowds, with chunks of ice falling off Berg/Mist glaciers and floating in the lake. There are many options to fill 3 days, assuming other 2 are hike in/out. Snowbird Pass usually opens up July 1.
You could even hike part of North Boundary to
Chown River
. It is about 25km from Robson Pass 1-way; very remote/exploratory feel, supposed to be quite scenic and solitude guaranteed.
High on the Mountain Top
Join Date: May 2005
Location: Whistler, BC, Canada.
Interest: Exploring the Coast Mountains and surrounding ocean waters in all seasons.
Posts: 1,573

---
Marble Range near Clinton. High ridges often snow cleared by May. Limestone/Karst topography with some very walkable ridges. Unlikely you'll see anyone else.

Might have to use some game trails in the area, but definitely will be ready by June--even before the South Chilcotins.

Lots of reports here on Clubtread for the area.
Hittin' the Trails
Join Date: Apr 2013
Location: , , .
Posts: 9

---
Thanks all for the information. I think we are going to try for the Rockwall trail with the understanding of the possible snow patches etc.

Any suggestions for side trips / scrambling opportunities while in the area? Be nice to spend an extra day or so and be able to drop the packs for some off-trail rambling.

Thanks,

Super Moderator

Join Date: Mar 2005
Location: Calgary, Alberta, Andorra.
Interest: hiking, backpacking, scrambling, climbing
Posts: 4,439
Hittin' the Trails
Join Date: Apr 2013
Location: , , .
Posts: 9

---
Well after preparing and planning for the Rockwall, it appears that the recent rainfall has forced a change in plans. The national park office for the Kootenays says they are finding people in the back country and asking them to leave due to mudslide, river flooding, etc concerns - so although ready to leave this evening we will require a change in plans.

Have all gear packed and ready for 5-6 days, any further suggestions for a trip we can re-route too?

Marble range?

Any recent beta on the South Chilcotins?

Any other suggestions?
Scaling New Heights
Join Date: Jan 2012
Location: Delta, BC, Canada
Interest: Mountain biking, bike packing, hiking, snowshoeing, exploring and enjoying good food/drink :-)
Posts: 99

---
Headed for the Mountains
Join Date: Mar 2004
Location: , Alberta, Canada.
Posts: 294

---
I was in to Berg Lake June 13-16 and the trail is in good shape.

We did a day trip up Toboggan Falls to the cave and found a bit of snow which may be gone by now.

You might want to make reservations for camp sites as it was starting to get busy.
Posting Rules

You may not post new threads

You may not post replies

You may not post attachments

You may not edit your posts

---

HTML code is Off

---