High on the Mountain Top
Join Date: Jun 2010
Location: , BC, Canada.
Posts: 2,463

Mt. Baker. Aug 24/25, 2013
---
We joined an ACC trip to Mt. Baker this weekend via the Easton Glacier route.
It was raining on and off when we started hiking but we were optimistic the weather would improve.
It looks like this creek turns into a monster after heavy rains.
We found a nice campsite at the edge of continuous snow/glacier. It even had fairly easy access to running water so we didn't need to melt snow.
We woke up at 2am and were climbing shortly after 3am. The first part of the climb was well illuminated by the moon and headlamps and we were well on our way before the sky started to brighten.
Looking at the sunrise through the steam (and gasses?) of a fumarole.
Looking in the other direction, the shadow of Mt. Baker is clearly visible.
Summit views:
Coming down in the light, we have a better view of the crevasses that we had to navigate around. We traveled on a rope team.
Looking back at Mt. Baker from the campsite.
Heading back to the trailhead along railroad grade which is a very impressive moraine. This part of the trip can be done as a day hike and provides some great views of the glacier.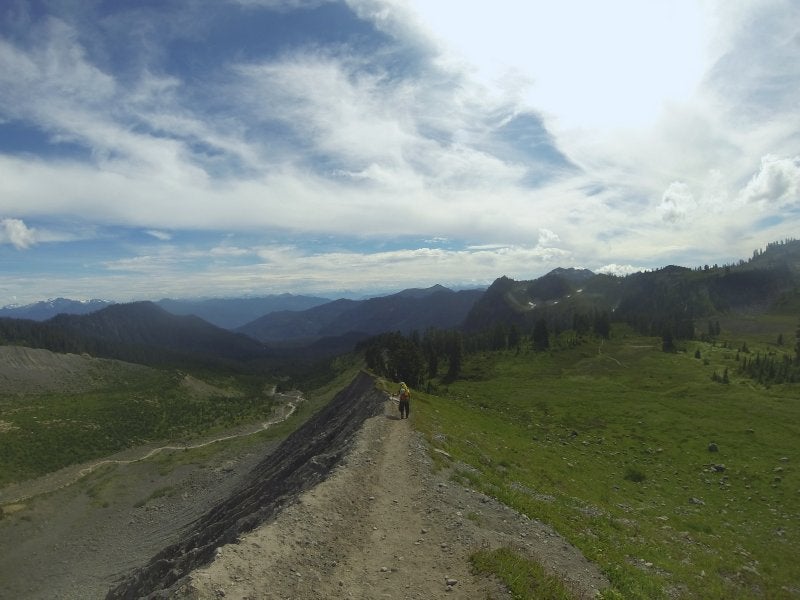 One last look at Mt. Baker.
Summit Master

Join Date: Jun 2003
Location: Chilliwack, BC, Canada.
Interest: Hiking, UL Backpacking, canoeing, snowshoeing
Posts: 7,376

---
Looks like you had great weather where it counted, thanks for sharing!
Off the Beaten Path
Join Date: Jun 2010
Location: , , .
Posts: 563

---
Thanks for posting this. It's nice to see some photos, and it was great to share a rope with you.

A few notes:
* This is a beautiful, easy mountaineering route with nice views. Its a great place to take less-experienced mountaineers (as long as they're in good shape).
* The approach was quite gentle, and made for quick progress. It took us about 3 hour to get from the parking lot around 1000m to our campsite at 2000m.
* There's lots of water around the climber's campsites at this time of year, if you go looking for it. We were lucky enough to stumble upon a ranger who gave us some good advice on where we could fit our 7 tents.
* MMm, blueberries.

Posting Rules

You may not post new threads

You may not post replies

You may not post attachments

You may not edit your posts

---

HTML code is Off

---