Off the Beaten Path
Join Date: Jun 2007
Location: Abbotsford, BC, Canada.
Posts: 782

Church Mountain Aug 11, 2013
---
Here's my one-a-year trip report, again for a hike in the Mt. Baker area. I have done quite a few Baker hikes in the last seven years, but not Church Mountain. As for every new hike, I tried to gather as much information as possible to make sure I'm still capable of doing it.
The entry in the TrailWiki is very skimpy and I could only find four TR's, two of which covered the technical climb to the summit (simonc and burndog, June 2006 and Sept 2010 respectively); one (KARVITK Nov 2012) described an ascent through snow to the lookout, also referred to as the "false summit" or "subsummit"; the fourth (Wildman Oct 2006) seemed to fit the bill. Thanks, Wally!
On Sunday morning, in a slight drizzle, seven of us met in Sumas for carpooling. The rain had a most fortuitous effect on the border traffic and we practically sailed right through. The US border guard was incredulous when told of our plan to go hiking at Mt. Baker: "In this weather??"
It took a while before we were able to get on the road to the Glacier Ranger Station for our parking passes because the three people from Vancouver had gone to the Aldergrove crossing that did not open until 8! The rest of us had to wait for them to make their way to Sumas.
The quite visible green street sign "E Church Mtn Rd" is 8.7 km east of the Ranger Station on the left side. A brown sign "3040", denotes the numbered Forest Road, a 4.3 km good one-lane gravel track that can be driven with any car. The trailhead with some nice signs and a brand new outhouse is at the end of this road at an elevation of 716 m.
We got on the trail at 10:15 and the rain had indeed stopped, having delivered just enough precipitation to keep the dust down. The humidity however was still very high and we ascended through the mist.
It has been said before, but it bears repeating: When it comes to parks and trails, the Americans do it right. I don't mind forking over $5 for parking at a trailhead because I know that the money is being used to maintain access roads and trails. And what a beauty of a trail this is! Not at all the relentlessly steep grunt that some people have called it. Yes, there are a lot of switchbacks, but I didn't find them boring like the Garibaldi ones.
The first half of the hike is through an old-growth forest and I'm always in awe of those beautiful big trees.
The trail was rimmed with Indian Pipe.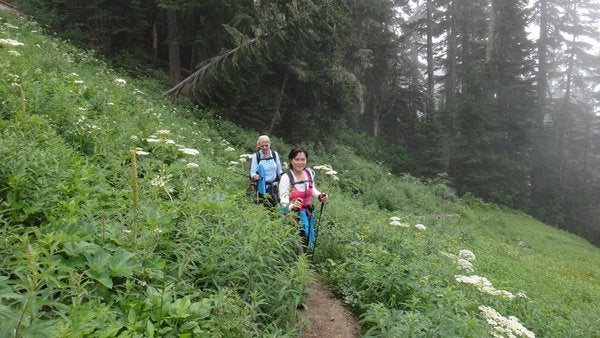 We made good time until we broke out of the forest into an open basin at about the half-way mark. At this time of the year, the alpine meadows seem to overwhelm the senses: wildflowers, some of them intensely fragrant, carpet the slopes in many colours; and the sound of streams rushing down from the mountain tops adds background music.
After enough pictures had been taken it was time to carry on. The sun had decided to make its appearance and we had some blue sky, but the winds kept drifting up from the valley and brought the mist with them, so we never had a clear view of Church Mountain, only the craggy ridge below it.
The second half of the hike is a series of long traverses across some steeply sloped meadows. Just below the ridge, the trail becomes rocky and quite vertical; a short scramble leads to a knoll that used to be the site of a fire lookout. There are some rusty cables to assist with the scramble but none of us felt confident to use them.
It had taken us just over three hours - now it was time for lunch and more picture-taking. We had an occasional glimpse of Mt. Shuksan and the top of Mt. Baker popped out once; no other views unfortunately, not even of Church Mountain that I think was behind us (slightly northwest of the knoll?). The only other peak that had a steeple-like shape was northeast of us and for a moment we thought that it might be Church Mountain. Looking at Wally's TR and Simon's comments again, I have now concluded that our assumption was wrong and that Church Mountain was indeed tucked behind us.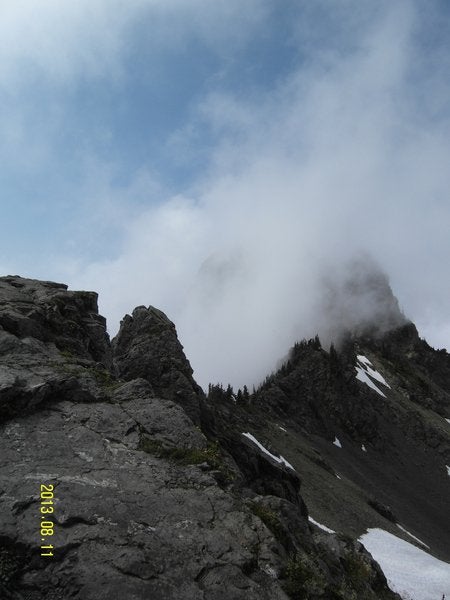 Is this it?
After having waited, without luck, well over an hour for the views to improve, we retraced our steps and were back at our vehicles just before 5 p.m. Although the spectacular views were missing, we still had an excellent hike - the meadows alone were well worth it. I do love a groomed trail

. Highly recommended!
Hiking Stats:
Distance: 14km
Elevation Gain: 1143 m
Duration: 6.5 hours
P.S. I can't seem to upload a bunch of my pictures (of course, the better ones!). I suppose if you only do this once a year, you're totally out of practice.
High on the Mountain Top

Join Date: Aug 2008
Location: Chilliwack
Interest: hiking, biking, running, kayaking, scrambling, snowshoeing, backpacking and ice-skating.
Posts: 1,610

---
Way to go Hedda! I loved Church Mtn. and you are right. Church Mtn. is to the NW of the sub summit. Here's a glimpse of what you missed:
Summit Master
Join Date: Jan 2005
Location: , , Canada.
Interest: Hiking, hunting, fishing, and many others.
Posts: 3,951

---
Good trip Hedda.
You will have to do this trip in the fall with the great colours then.
Although the summer has it's charm.
Kanike, is absolutely right about the main peak.
Here's a picture of it without the snow coat.
Your other pictures may need to be made smaller.
Off the Beaten Path
Join Date: Jun 2007
Location: Abbotsford, BC, Canada.
Posts: 782

---
Thanks Janice and Wally for your pictures of the true summit block of Church Mountain. I definitely need to go back when there are no clouds.
Summit Master

Join Date: Oct 2006
Location: Popkum, BC, Canada.
Interest: Hiking, biking, kayaking, swimming, tai chi, meditation.
Posts: 6,099

---
You went to Church and it was a notable occurrence, keep the TR's coming Hedda!
Banned
Join Date: Sep 2004
Location: Chwk, , Canada.
Posts: 5,318

---
Nice hike.
Good to see you're still posting (and hiking) Hedda!

Summit Master
Join Date: Jul 2004
Location: Vancouver BC
Interest: 10%
Posts: 5,022

---
I can't remember a whole lot from this trip back in 2006. I have no recollection of the summit part. I do agree with Wally that fall would be a great time to visit as past trips of mine to Goat and Tomyhoi around that time provided great colours and views.


Super Moderator


Join Date: Apr 2005
Location: Abbotsford, B.C., Canada.
Interest: Hiking, Snowshoeing, and Photography. Enjoying the outdoors fresh air and fitness experience.
Posts: 17,919

---
Great to see this report, Hedda. Cool comparisons of the Summit Block; with and without snow.

K
Posting Rules

You may not post new threads

You may not post replies

You may not post attachments

You may not edit your posts

---

HTML code is Off

---