Economy River, New Scotland
---
Last weekend was Canada Day weekend and at all the provincial and national parks in the area that means fulled booked campsites, backcountry included. We chose a more economic (and no advance-planning required) option, the Kenomee Canyon trail on the Economy River in Economy, Nova Scotia. (Economy is the anglicization of Kenomee, a Mi'kmaq place name.)
Have you ever been to a place in the backcountry that was so beautiful, yet so deserted? When you discover a place like this you are faced with a dilemma: A) Should you tell everyone you know so that people will visit and love it as much as you do and ensure that the trail doesn't grow in? or B) Should you keep it to yourself so that no one else spoils your paradise? This is our dilemma after this weekend. (I figure most people reading this site are far enough away that not too many of you will spoil this deserted place by overcrowding it so I'll share

.)
Here is the map of the trail system that we used. The yellow and then the purple was our route to make a 21km backcountry loop. A local community group built the trail in the past five years or so but it hasn't seen that much use. It has 17 wilderness campsites at 3 locations, but on the weekend we were there we didn't seen anyone else in 2 days.
The trail is built to a 'wilderness standard'. The means that the only bridge on the trail is in the front country. For the rest you just ford the creeks like so:
And also like so:
Sunny Canada Day trailhead photo.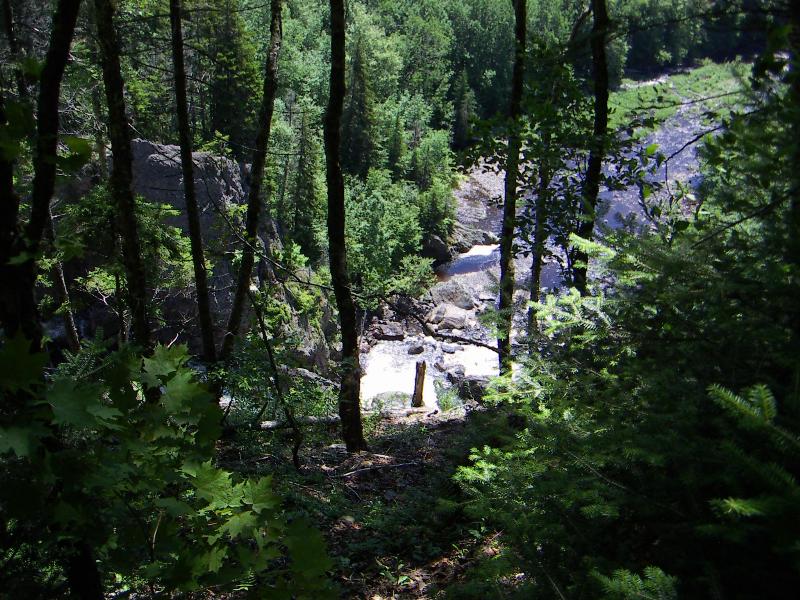 Looking down into the canyon... maybe I like this trail because it reminded me of BC a bit?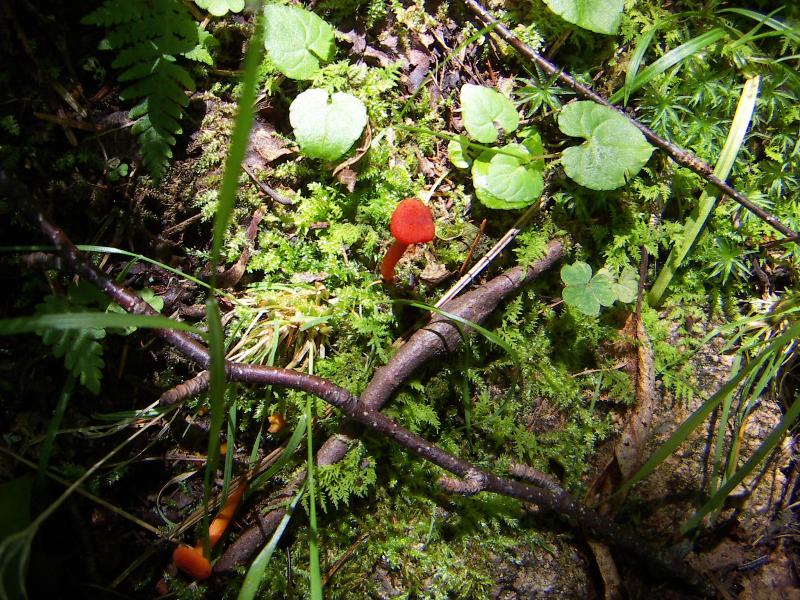 Fungus among-us. They were everywhere along the trail and of lots of different types.
Several of the trees objected to having trail markers on them and so they ate the markers.
Our campsite. A private site overlooking Murphy Brook on a spur trail. Comes with it's own primative seat only, no house, outhouse (called a pit privy in this part of the world). On this trip we were trying out some new gear: the MSR Hubba Hubba and an Integral Designs Sil Tarp 2 (8'x10'). I have very positive things to say about both. We had a huge rain shower over night (the rain was so heavy we had to shout to be heard over the sound of it bouncing off the fly) and both the tent and the tarp were fully tested and passed with flying colours.
Giving my Hubba Hubba a hug. I love my new tent THIS much!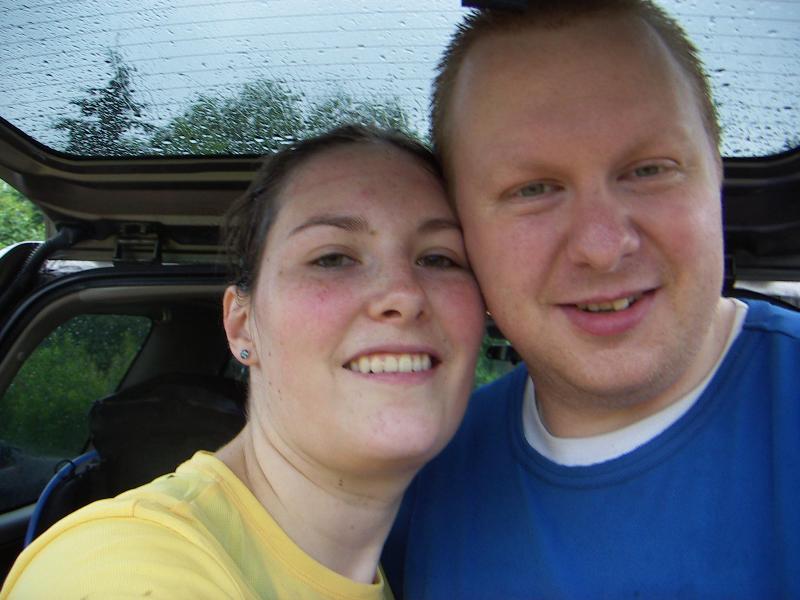 We had a fair amount of rain our second day. Huddling under the open back door of the car at the end of an awesome trip.
If you're ever planning to backpack in Nova Scotia this is an awesome trip. It could be easily done as a dayhike but is much more enjoyable as an overnight. Please, please, please... don't be like all the rest of the Nova Scotians... don't feel you are restricted to the provincial and national parks. Come to Kenomee Canyon for the best hiking in mainland Nova Scotia (not including Cape Breton).
Oh, and we also saw some moose prints. Good news for the endangered mainland moose. Another awesome trip in New Scotland.
High on the Mountain Top
Join Date: Jun 2004
Location: Salt Lake City, UT, USA.
Interest: Seriously active hiker/ mountaineer/ canyoneer
Posts: 2,269

---
A canyon in Nova Scotia! Sounds like a pretty good reason to come visit to me!
Super Moderator


Join Date: Apr 2005
Location: Abbotsford, B.C., Canada.
Interest: Hiking, Snowshoeing, and Photography. Enjoying the outdoors fresh air and fitness experience.
Posts: 17,919

---
Superb little paradise spot. Thank you for sharing.


Regards,

---
TMC, the canyon isn't really that tight - it looked fairly wide by BC standards but in NS, it is considered quite a marvel. The lady at the visitor centre down in Economy told me that she had hiked up the canyon through the river in hip waders and that it was quite treacherous due to the rocks. Apparently the big falls partially collapsed after a big storm with lots of run-off in 1997 and then a further storm in 1999 re-arranged the rocks. I wouldn't want to be in the canyon while that is going on

.

---
Thanks, it is great to see TRs from far away places [8D][

][8D]
----------------------------------------
"Impressive
<heavy breathing>
, most impressive, but you are not a Jedi yet!"
Lord Darth Vader
Super Moderator

Join Date: Aug 2004
Location: Climbing, a mountain, Canada.
Interest: climbing and spraying
Posts: 16,175

---
Maybe I can get some funding to come and measure that canyon, as it sounds like it is very hydrologically active?


----------------------------------------
Wine stirs the spring, happiness bursts through the earth like a plant, walls crumble, and rocky cliffs, chasms close, as song is born.
High on the Mountain Top
Join Date: May 2005
Location: Vancouver, BC, Canada.
Posts: 2,153

---
enjoyed your TR, I love my MSR hubba either

----------------------------------------
self-control is power
Posting Rules

You may not post new threads

You may not post replies

You may not post attachments

You may not edit your posts

---

HTML code is Off

---