Scaling New Heights
Join Date: Apr 2014
Location: Powell River, BC, .
Posts: 57

Cape Scott (Hansen Lagoon-Lowrie Bay Route)
---
!!Backpack found along the Hansen Lagoon-Lowrie Bay Route!! Read on for more info and a photo
Hey folks,
Very long time lurker/user of the forums. Over the past few years I've started to do more backcountry, alpine and generally more interesting trips. I've decided to start sharing some of my outdoor adventures on ClubTread and hopefully provide some more information to this amazing website.
A good friend of mine was spending the month of May travelling around Vancouver Island on his dirtbike, exploring some of the parks and trails around NW Vancouver Island. He had done the North Coast Trail 2 years ago with another friend of ours, and had plans to return to the area to explore the Cape further and attempt a coastal route from Hansen Lagoon to Lowrie Bay. I was to take the Greyhound to Port Hardy and try to hitchhike to Holberg, where he would double me on the back of his DR650 into Cape Scott Park.
May 26-Vancouver to San Josef Bay
I woke up at 6AM and stumbled my way from Strathcona to the Greyhound station at Main & Terminal in Vancouver. Everything went without a hitch and soon I was working my way across the Georgia Straight on a ferry, transfering from Nanaimo to Campbell River and finally getting close to Port Hardy at 5 PM. I asked the driver to drop me off at the Holberg junction and he obliged. I crossed the highway and stuck out my thumb, hoping to catch a ride west down the logging road. After 20 minutes only 2 trucks had passed me and both seemed to be working trucks on the way to a logging cut. I waited for another 30 minutes and decided to at least start walking down the road to get some miles under my belt. After another 10 minutes it started raining, a lot, welcome to Cape Scott! I decided to take refuge in a little spur road and get under my tarp for a few minutes in order to stay dry, it was at this point that I realized that I probably would not be getting a ride that day, so I decided to try and call my friend who was waiting for me in Holberg, perhaps he could come pick me up on his motorbike? After a few hours of trying to get in touch he phoned from a payphone and came and got me, we drove (slowly) along the logging roads leading towards Holberg and finally to Cape Scott. We decided to camp at San Josef Bay for the night and figure out our packs and logistical things in the morning. We arrived at the parking lot at midnight, celebrated with a few tall cans of beer and quickly walked down to the bay, set up camp and enjoyed a well deserved sleep.
May 27- San Josef Bay to Nissen Bight
The next morning we awoke to a beautiful, mostly empty beach and blue skies. A woman walked by our camp and we were getting up and mentioned that she had seen a cougar(!) as well as a wolf in the wee hours of the morning. There were wolf tracks all over the beach, probably 10m from our tarp and lots of little holes had been dug. We walked back to the parking lot, divied up 7 days worth of food and started up the trail. It was a pleasure to be finally hiking through this park, I've been dreaming of it since I was a kid. Lots of beautiful spruce and cedar groves, jungly sections and pleasant boardwalks through sphagnum bogs and interesting coastal swamps. We made it to Eric Lake and made lunch below an enormous old growth spruce. We kept rambling along the trail at a leisurely pace, occasionally having to avoid the muddy sections and being careful not to slip on the boardwalks. Since we were here in the early (and dry) season the mud was rarely a problem compared to some of the tales of heard about this trail. After a few hours we were heading for the coast and after checking out some of the grave sites that the Danish settlers left we came out at Fisherman's Bay, a smaller and less popular bay just beside Nissen Bight. We found a glass ball, decided that the camping was better at Nissen and headed over there to set up camp. The tide was going to be exceptionally high that night, so we set up as high as we could on the beach. At about midnight we noticed the tide was still rising and getting awfully close to our tarp, so we ended up moving a bit further into the woods down the trail. As we were walking along there were tons of noises in the bushes, almost as if there were rodents in the trees that would jump away as soon as they saw our headlamps. It was a bit spooky and happened around 15 times along our short walk. We set up camp close to the Nissen-Cape Scott junction and slept soundly.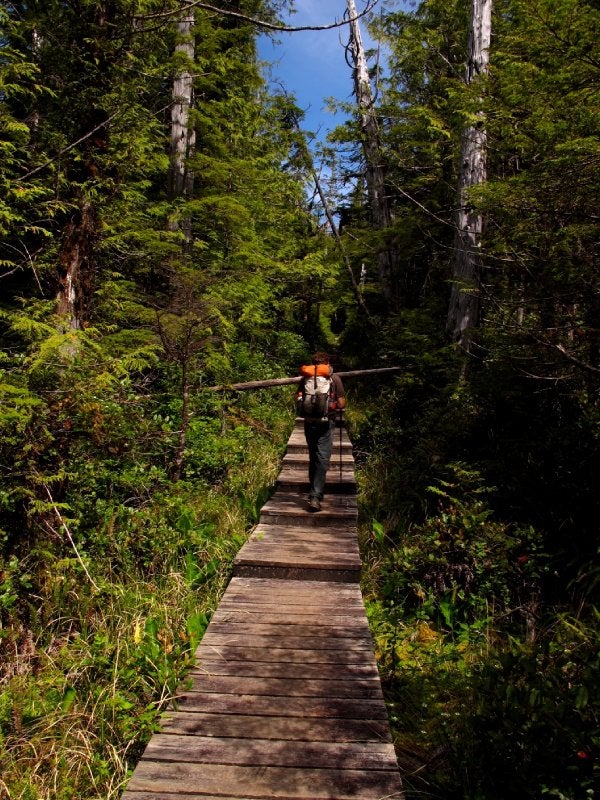 May 28- Nissen Bight to Guise Bay
We slowly packed up in the morning and made finding water a priority, there was very low flow in almost all of the water sources around Cape Scott. It was usually a very slow trickle coming down from a hill through the forest, not brackish, just very low flowing. It was very dry the entire time that we were there.
We made it to Nissen Bight quickly, had lunch in one of the beach shelters and were visited by a very friendly (albeit loud) Stellar Jay. Nissen Bight was a nice beach, although there were quite a few different folks camping and quite a bit of trash around including broken glass, which is probably my least favourite type of trash to find on a beach. It was feeling pretty stormy at this point, very grey and windy but the rain never did end up coming. We made our way along the beautiful trail, coming out at various bays and beaches. Plenty of blackened rocks, massive spruce trees, japanese refuse and piles of dried up bull kelp. Saw a bear on the trail between Guise Bay and Nels Bight, it ran into the forest as soon as it caught sight of me. The weather started clearing up as we were getting into Guise Bay. We had a snack on the beach and walked around looking for a campsite, we were a bit hesitant to camp right on the beach due to tides and since camping in the sand with a tarp isn't always the most fun. We ended up finding a spot in the meadow just off of the trail and set up there and spent the rest of the day exploring the beautiful area around Guise Bay. This is one of the most beautiful beaches that I have ever been to, we spent 2 full days exploring this area. In the evening at low tide we walked along the coast towards Cape Scott and found beautiful remote beaches, ancient middens and several glass balls. We made it to the sea stack area and were treated to a spectacular sunset.
May 29th - Guise Bay
We spent this day just exploring the sand dune area between Guise Bay and Experiment Bight, walking back and forth along the beaches and rocks and just soaking up the vibe of the place. In the evening we walked along the old road towards Cape Scott, went through the forest and poked around in some magnificent old growth and ended up at the sea stack area once more, a chorus of elephant seals rang out while the sun was setting behind the remote islands that lie further past the cape. A glass fishing float was found on a beach close to the sea stacks. We were feeling completely blown away not only by the feel of the place (we didn't see a soul all day!) but also by the fact that it hadn't actually rained yet, a very rare thing in this area. We looked over our maps and planned a route for the next day from Hansen Lagoon down to Hansen Bay.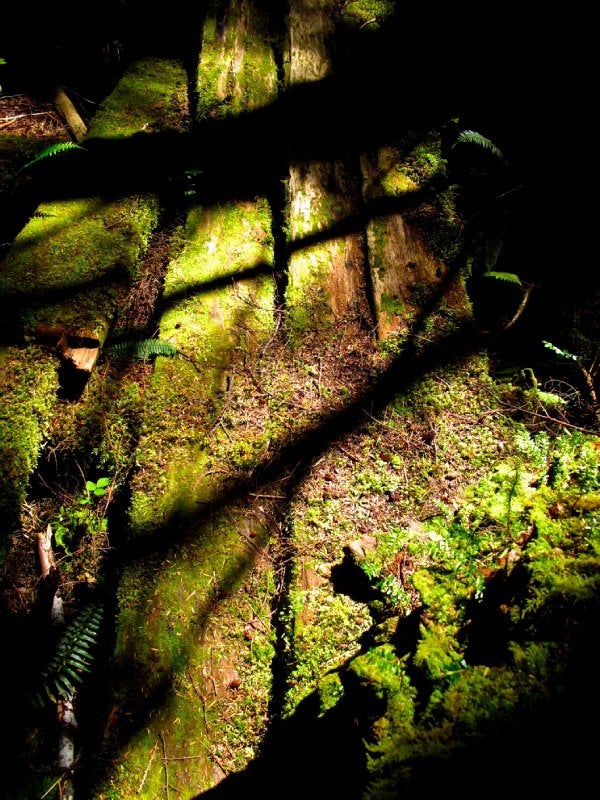 May 30th - Guise Bay-Cape Scott-Hansen Bay
We wanted to check out the lighthouse in the afternoon and make our way down through the lagoon in the evening time which would coincide with low tide, facilitating easier travel. When we arrived at the lighthouse there were some friends visiting the lighthouse keepers and there was a bit of a party going on. It was a bit of a shock to us and we hadn't seen anyone for a few days, we stayed for an hour and shared a few stories and laughs. The two lighthouse keepers (Harvey and??) were great, jovial folks and I look forward to seeing them again. We headed back to Guise Bay and said our goodbyes to that wonderful beach, packed our bags and headed back down the trail towards Hansen Lagoon. The clouds began to roll in as we exited the old growth and into the marshy meadows that surround Hansen Lagoon, we walked along the Danish built dykes, jumping over ditches and occasionally having to cross tributaries of the Fisherman's River. We eventually arrived at a small, derelict cabin on the banks of the Fisherman's River. We took our boots off one more time, filled our bottles with water and crossed the river to continue our hike. We could see our route ahead and it looked okay, lots of tidal marshes bordering on old-growth forest. It reminded me a lot of mangrove swamps that I've seen, lots of spruce and cedar branches covered in barnacles and rotten seaweed. It's a very unique landscape back there and there was scat, tracks and cracked mussel and clam shells everywhere. It felt great to be off the trail and on a backcountry route, and we were very surprised to not see more wildlife in this area. Eventually we spotted a sandy headland overlooking Hansen Bay which looked like a promising campsite. After crossing Rasmus Creek we made it to the sandy promontory at sunset and were looking directly at the mouth of Hansen Lagoon, ocean waves crashing into the reefs surrounding Hansen Bay. We plotted our route the next day, we were going to wake up at 7 AM, 2 hours before low tide and start walking along the rocky coast towards Lowrie Bay.
May 31st - Hansen Bay to Lowrie Bay
The weather was looking grey and dreary when we woke, but the route we were looking at the night before was looking good, the tide was already low enough to start walking along the coast so we decided to get a move on. Initially it was easy beach walking, lots of sand and grippy black rocks with no routefinding challenges. Eventually we got closer to the mouth of the bay and had to begin crossing the first of many surge channels. These proved to be the most challenging aspect of the route. At low tide there is no water in them and the waves posed little threat, but the rocks were incredibly slippery and covered in many different colours of seaweed. It was often a beautiful sight, but it always felt like the kind of place that you couldn't stay too long in, a place that very few humans get to see. I have never seen so many different colours of seaweed, and the tide pools in this area were incredibly diverse and captivating. Along the route we also found sea caves, saw a marten and a fisher and found 2 more glass balls, one of which was enormous! The most difficult part of the route was past the point of Hansen Bay where we were forced to climb up to a headland through salal with quite a bit of exposure. My hiking partner was ahead of me and suddenly seemed very startled. When I caught up to him he showed me a backpack that was attached to a tree, in quite a precarious spot on the headland. It was an Arc'teryx Bora 80 pack and an Outdoor Research compression bag, both attached to a tree. It seemed like it had been there for a while (1-3 years?) and there were a few objects with rust on them inside of the pack, though we didn't look through it too much.
We were very surprised to see something like this on such an unpopular route, but I've heard a few tales of folks getting stranded in Cape Scott before. We took a photo and marked the spot on the GPS, and after speculating about what happened we continued on our way. We had to scramble down a steep, moss covered gully to get back down to the coast but soon we could see our destination in the distance, Lowrie Bay and that was a good boost for us. From then on it was fairly straightforward, a few surge channels and headlands to cross through but we made it to Lowrie Bay just as the tide was coming back in. We headed for the small cabin that occupies the southern end of the beach. It's a lovely, small cabin with bunk beds and lots of graffiti on the walls, lots of character and a surprisingly cosy feel despite it's small size. We spent the rest of the evening walking the beach, drinking scotch and chatting with 2 locals that were camped on the other side of the beach for the evening.
June 1st - Lowrie Bay
We spent this day exploring all around Lowrie Bay, eating, napping and enjoying the solitude and beauty of Lowrie Bay. It was nice to hang out in a cozy cabin for a few hours in the morning. We spent some time on a large island just barely off of the southern end of the beach. Lots of photos were taken, thirsts were quenched and a few good conversations in the sphagnum bog made the day pass all too quickly. We were treated to another glorious sunset that night, a lone tanker far out in the ocean passed by during the twilight hours, a reminder that we were still not so far from civilization, though this beach felt very remote.
June 2nd - Lowrie Bay to San Josef Bay
Our last morning at Lowrie Bay was spent eating most of the food we had left, taking count of our glass balls (we left a few, don't worry) and discussing what the post-hike meal would be. We set off to Sea Otter Cove and once there we quickly found some flags across a creek, directing us to the Mt. St. Patrick. It's initially a bit confusing as there seems to be quite a few different trails leading down to the cove, but after that we found it to be a well-flagged, interesting route sidehilling it's way up the mountain. I've heard a lot about this trail being very tough, hard to find and in difficult terrain but I found it pretty straight forward. It reminded me of a lot of routes in SW BC leading up into the alpine. Not much of a footbed, lots of roots and bushes but still well flagged and used occasionally. We made it up to Mt. St. Patrick in a few hours and were treated to some wonderful views all around the Cape. It was still cloudy up there but the clouds weren't low enough to obscure our panoramic views. It was very windy on the summit but eventually the sun poked through providing some wonderful light for photos. The forest up here is amazing! Lots of stunted trees, thick colourful mosses and a unique feel that couldn't be compared to anything I've ever seen in B.C. We took our time heading down from the summit and enjoyed the lush forest down from the peak. Lots of changing forest and trees on the way down to San Josef Bay, we eventually came out on the beach at high tide. We took the overland route to get down to the main beach at San Jo, had a fire and ate the rest of our meagre rations.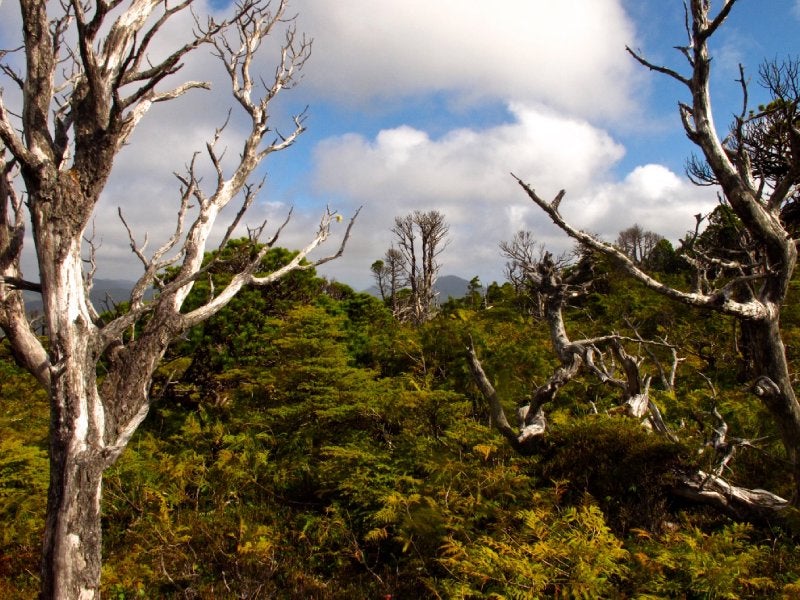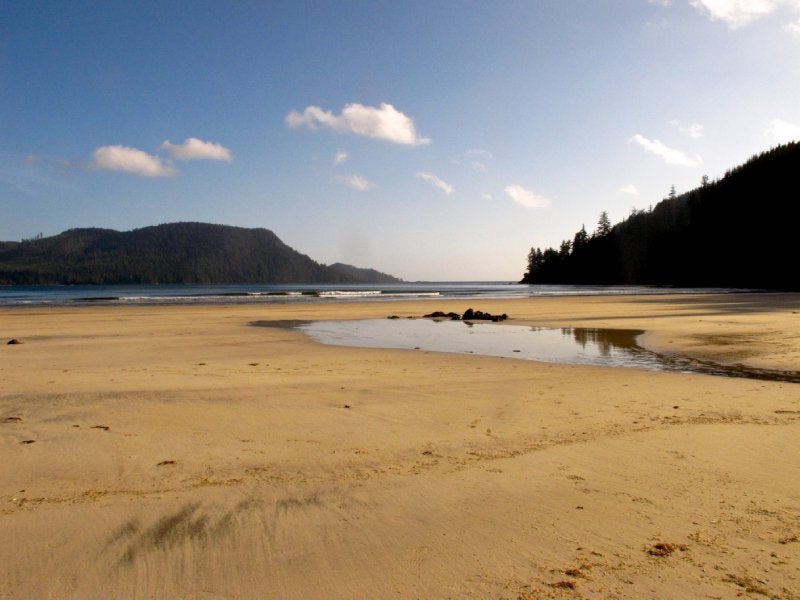 June 3rd - San Josef Bay to Port Hardy
The next day we lazily ambled our way down the trail early in the morning and arrived at the parking lot, prepared for the task of loading the motorcycle with gear as well as the 2 of us for the ride back to town. My hiking partner was a bit nervous, for good reason, as the bike was starting to show signs of wear and he hadn't put nearly this much weight on it before. After a slight hiccup going a bit too fast down a hill we were off and on our way to Port Hardy. We slowly made it down the logging roads without any issues, and arrived in Port Hardy at 1:30 PM. We headed immediately to the Overweighty Foods and each spent a good chunk of cash on sandwich supplies and chocolate before heading to a nearby park to gorge ourselves on our post-hike feast. It was good to say the least and we decided the next stop would be the liquor store. We picked up a few strong I.P.A's and loaded them up in our bags. Wandering the Port Hardy strip we found some strong coffee and came across an excellent thrift shop. Later in the evening we went to the Port Hardy Rec Centre and soaked our sore muscles and tired bones for a few hours in the hot tub. We found a nice campsite just outside of town, drank our beer and told stories over the campfire for our last night on the trip.
The next morning I caught the Greyhound and made the journey home to Vancouver.
THE END
Thanks for reading. This area exceeded my already high expectations and I would recommend it to anyone interested in coastal hiking. You often have the beaches to yourself and the whole park has a very remote, mystical feel to it. The route that we did was not nearly as challenging as we had anticipated, though we did have good weather and kept a close watch on the tides. Not sure if this report was a bit long-winded, but I've been following this website for a very long time and am excited to begin contributing more.
If anyone has any information regarding the backpack that we found please share. My hiking partner will be alerting the Port Hardy coast guard about it as well.
Off the Beaten Path
Join Date: Aug 2007
Location: ALBANY, OR, USA.
Interest: SEA KAYAKING HIKING FISHING
Posts: 801

---
Outstanding report. Glad to see someone did this route. It's a blast. I went through there in 2008 and enjoyed it immensely. What a find on the floats, not a one for me when I went through. thanks for dredging up memories.
Off the Beaten Path
Join Date: Jul 2003
Location: Powell River, BC, .
Posts: 609

---
What a great TR. Thank you for sharing your journey.
Hittin' the Trails
Join Date: Jul 2011
Location: Coquitlam, BC, .
Posts: 5

---
Thanks for the detailed report, jaypeedee

Which trail you took to top Mt.St.Patrick, the one that goes up from north side of San Josef Bay, or short one from near IR at Sea Otter Cove?
Scaling New Heights
Join Date: Apr 2014
Location: Powell River, BC, .
Posts: 57

---
Quote:
quote:Originally posted by Winter

Thanks for the detailed report, jaypeedee

Which trail you took to top Mt.St.Patrick, the one that goes up from north side of San Josef Bay, or short one from near IR at Sea Otter Cove?
We went from Sea Otter Cove to San Josef bay, the trail starts from the mouth of a creek.
Scaling New Heights
Join Date: Aug 2011
Location: Vancouver, BC, Canada.
Posts: 89

---
Incredible photographs, jaypeedee, awesome route!

What's your opinion on the reverse route, specifically Lowrie Bay to Hansen Lagoon?

Any one-way surge channels or headlands? Would the bushwhack in the vicinity of the lost pack be recognizable from the Lowrie Bay side?

I think there's water at Lowrie Bay, but Rasmus Creek looks not so good.

Thanks for any input, either yourself or apalmer!
Off the Beaten Path
Join Date: Aug 2007
Location: ALBANY, OR, USA.
Interest: SEA KAYAKING HIKING FISHING
Posts: 801

---
Rasmus creek would be like most "tidal" creeks, you would want to walk upstream quite a distance to get away from the salt. I didn't obtain water from Rasmus so can't really contribute any information as to how far you would need to go.

I recollect finding a seep at Lowrie Bay and I also collected some rainwater off of my tent. The time of year one goes would likely affect both sources of water. If your approach is from Sea Otter Cove, fill up your supply to be on the safe side.

If I was to do over, I would approach from Lowrie because I can gauge the rock shoreline access better with the tide. When I did it in reverse, I didn't know how much rock shore I would find once I crossed the headland.

It's a sweet area. I would love to do it again and spend a few days at Lowrie Bay but be careful and step carefully.
Scaling New Heights
Join Date: Apr 2014
Location: Powell River, BC, .
Posts: 57

---
Quote:
Incredible photographs, jaypeedee, awesome route!

What's your opinion on the reverse route, specifically Lowrie Bay to Hansen Lagoon?

Any one-way surge channels or headlands? Would the bushwhack in the vicinity of the lost pack be recognizable from the Lowrie Bay side?

I think there's water at Lowrie Bay, but Rasmus Creek looks not so good.

Thanks for any input, either yourself or apalmer!
I think that the reverse route would probably be fine, most of the really tricky sections were in the middle of the route, close to the prominent headland sections. The lost pack was on top of the tallest headland, but was mostly surrounded by pretty thick salal so it's hard to say if you would find it or not.
There was a good source of water just to the south of the Lowrie Bay cabin, lots of the water sources that we found were just drips coming down from higher elevations, fresh water was very scarce during our time there.
I think as long as you give yourself plenty of time at low tide (leave 1-2 hours before low tide if possible) then you should be fine. A walking pole was very helpful as some of the sections were EXTREMELY slippery. It's another world in there, many different colours of seaweed and plenty of sea creatures that I've never seen before. There's a great camping spot above the beach at the head of Hansen Lagoon that I'd highly recommend, but it's also pretty easy going after that point if you want to head on straight through.
Scaling New Heights
Join Date: Aug 2011
Location: Vancouver, BC, Canada.
Posts: 89

---
Thanks for the information, both of you, it's appreciated.

Looks rugged, but worth it. It's going to be my first time in Cape Scott Park.
Hittin' the Trails
Join Date: Apr 2015
Location: Burnaby, BC
Interest: Hiking, Camping, Caving, Rock Climbing
Posts: 1

Its mine!!!! :)
---
My gods... am shaking right now... I cant type... am so beside myself that my bags have been found !!!!!
I'll update this after
Scaling New Heights
Join Date: Mar 2005
Location: Coquitlam, BC, Canada.
Posts: 98

---
Great trip report! This makes me want to go back. Nice that a long lost bag was found on the way too.
Headed for the Mountains
Join Date: Feb 2007
Location: Gallneukirchen, Upperaustria, Austria.
Interest: Costal hiking on Vancouver Island, Seakayaking in Folding Kayaks
Posts: 109

---
This trip reports and follow ups are awesome!
I am really curious to hear the story of the lost backpack!


Am planning a trip over Mt. Saint Patrick in early June, will spend a few days in Lowrie Bay


Would be great to hike the route on the beach the opposite direction to the lagoon.
Wonder what will be the best tides to along the rocky shelf and for crossing Fishermans and Rasmusen Rivers


Anybody out there interested to join in for an adventure? Alpalmer or Otto perhaps?


servus


Willi
---
Last edited by Westcoastwill; 05-03-2015 at

10:36 PM

.
Hittin' the Trails

Join Date: May 2015
Location: Vancouver, BC
Interest: Skiing and Hiking
Posts: 48

---
Awesome! This thread couldn't have popped up at a better time.

I was considering going up to Cape Scott on May long weekend doing a solo trek, as I have an absurd amount of friends outside of the country then.

I didn't realize there was a large wolf population up there. Any recommendations in case of confrontation? Not to mention this would be the first time I went solo backpacking.
Headed for the Mountains
Join Date: Feb 2007
Location: Gallneukirchen, Upperaustria, Austria.
Interest: Costal hiking on Vancouver Island, Seakayaking in Folding Kayaks
Posts: 109

---
Have hiked NCT, Nootka and Hesquiate, had wolf tracks around the tent and on every beach, seen a few from the far distance, never had nor expected any problems ever.

My guess is you will not be alone out there if it is a long weekend.
drop by at the lighthouse and say hi to Harvey and Todd!

Am planning a solo hike for the second week of June.

Please post some pics and report of trail conditions

Have a great hike!
Posting Rules

You may not post new threads

You may not post replies

You may not post attachments

You may not edit your posts

---

HTML code is Off

---