Off the Beaten Path
Join Date: Jul 2008
Location: Sunshine Coast, BC, Canada.
Posts: 876

Beginner Bushwack guide; Mt Varley- Sunshine Coast
---
Mt. Varley(1639m) is located on East side of Rainy River, across the valley from Panther, Tetrahedron, and Rainy peaks on lower Sunshine Coast, and one of 5 main peaks that are higher than 1600m in elevation in the region. It offers excellent bushwacking opportunities for beginner hikers. Nice views are scattered throughout the entire route starting from the trailhead. Peak views are rather unique and might be the best amongst lower sunshine coast peaks.
.
Mt Varley viewed from Rainy peak(left). From Panther(centre left). From Horseshoe Bay(right two pics). It is the centre peak with a bold patch in the middle. It is actually lot higher than surrounding peaks in the photo.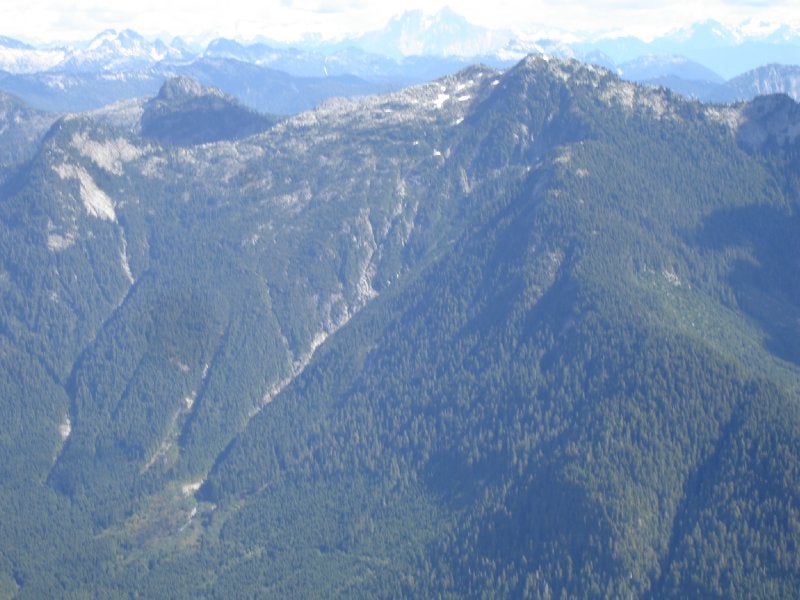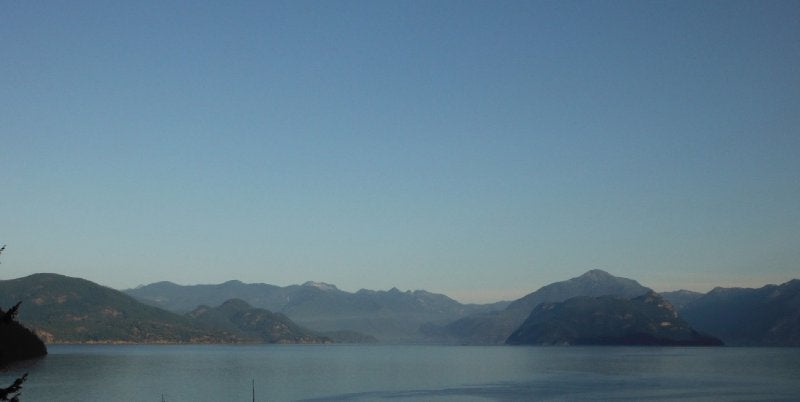 ====
SUMMARY;
Mt. Varley is a quick access peak from the end of East fork of Rainy River road off Port Mellon. It requires bushwacking in the majority portion but it is rather pleasant and occurs on easy straight forward terrain and quite suitable to beginner hikers like myself as the first time venture. Old logging road works as an "access trail" to the bushwack segmemt. From here, as long as I chose the line with a good eye, bushwack was surprisingly easy. I took a simple route to be able to follow the same route back; stay on west(left) side of the creek 65-70% of the way and cross the creek/gulley to East as soon as alpine rocks become visible on the climber's right. Then continue to ascend diagonally East up on scrambling rocks to reach the South ridge then turn left to ascend the ridge towards the peak. Descent is the same way down.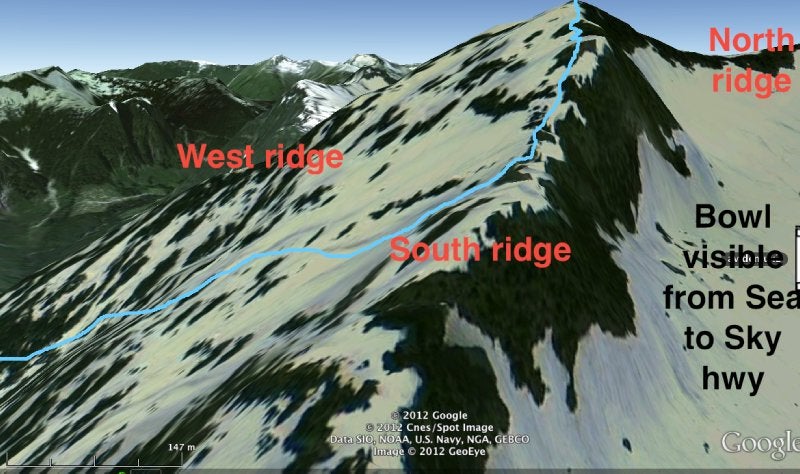 ====
BACKGROUND;
Last several days, I have been looking up the perfect sky day in day out and getting itchy to go alpine again, this morning I got up and it was perfect day again and I couldn't take it anymore and changed my schedule to go to Mt. Varley as inspired. This fit perfectly with my wanting to try out the new shoes- do slow run in various surfaces and steep downhill. Actually I nearly did Varley about a month ago after full preparation but I was too uncomfortable doing bushwack and cancelled in the last minute. I appreciate Ted Oliver and Nortonchum's posted reports as they gave me a comfort & confidence to do it today.
====
TIME;
ASCENT; 2h 29mins including all stops
Trailhead which is the end of drivable point(2nd creek crossing after East fork of Rainy river road started) to bushwack start point 35mins. Here looked around for flagging and surveyed the best line for bushwack about 7mins. To the peak from bushwack start point is 1h47mins; Including stopping 3mins to get changed for run at alpine. Expecting bushwack, I wore thick sweat pants like trousers on entire ascent till alpine which slowed down the run portion on trail.
DESCENT; 2h25mins including all stops
Peak to original bushwack start point(see the diversion route in map) is 1h57hrs including 20mins stops to take photos. Also stopped 3mins at trail start point to get changed for runnig down. This original bushwack start point to trailhead was 25mins including 4mins photo stops.
Car-to-car is 5h29mins including 35mins peak stop.
Fast advanced bushwackers(likes of kid charlemagne, SimonC etc) might be able to do buskwack portion in 50-70mins each way. Running portion can be done 25mins ascent, 18mins descent by fast runners. If a fast skilled bushwacker runs even slowly in the trail portion, the entire route can be done in less than 3hrs return.
====
TRIP CONTENT
ACCESS TO TRAILHEAD
Turn right as you leave the Langdale ferry terminal to reach the pulp mill gate at Port Mellon in 15km or less. Report to them where you are going and set odometer to 0 here. Go straight and in 0.6k or so there is a twin bridge and turn left immediately after crossing.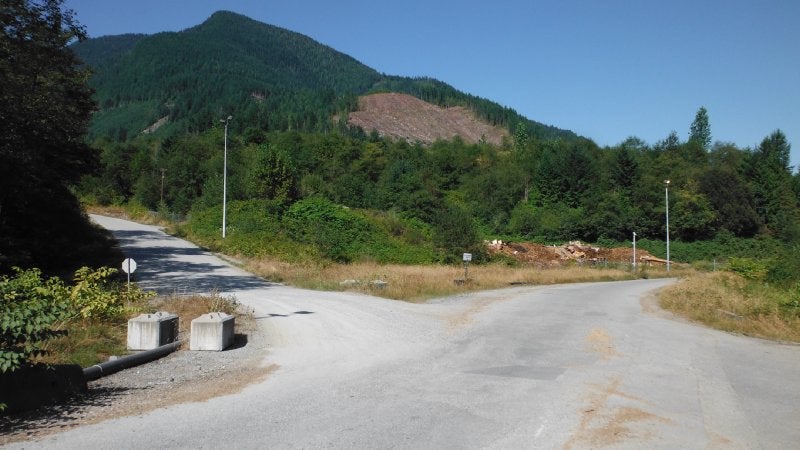 About 8.5k, where you see rusty big culverts on the side, there is a road branching off to right. Take right to this East fork of Rainy road. You see the sign and mountain looming(right photo).
This road was 1km drivable with 4x4 Tacoma. Somewhat deep waterbars. Low approach/departure angle vehicle is recommended to disembark earlier. See creek crossing ropes on the right photo for advanced hikers in spring?
This is my "trailhead" at second creek crossing after turn off into East Rainy road. Short wheel based Suzikis or skilled drivers can pass this and go another 0.5k or so. Right photo shows a parking space for 5-6cars there. About 520m elev. here.
====TRAIL / OLD LOGGING ROAD PORTION
====
In about 0.5k or so, there is the only fork in the road/trail. Take left.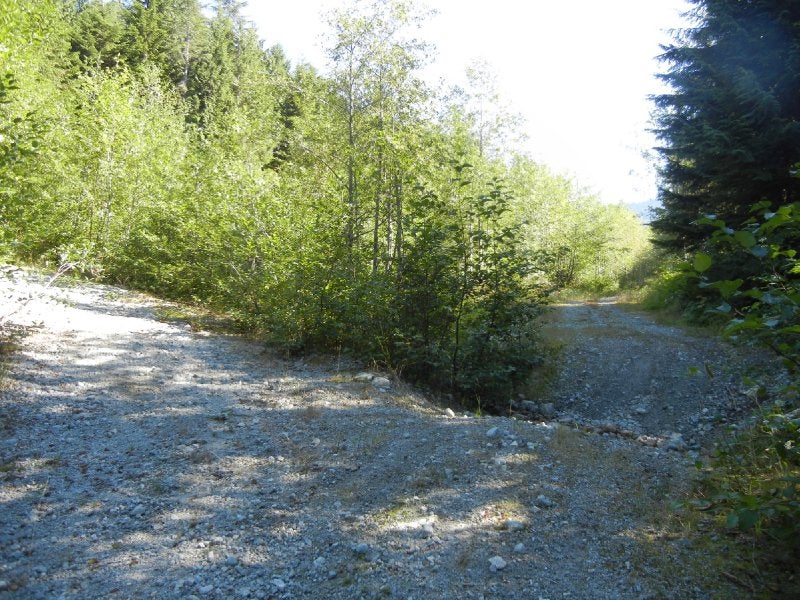 Rest of trail portion looks like below from ascending perspective order. Some bushy sections and 4 or 5 washouts total. If you look back there is a nice view of Rainy peak.
Ascending perspective order of trail portion(continued). It varies fairly frequently and never gets boring even at this segment. It is a gentle ascent. I am calling it trail but really just an old logging road. It gets clear and open for its last portion.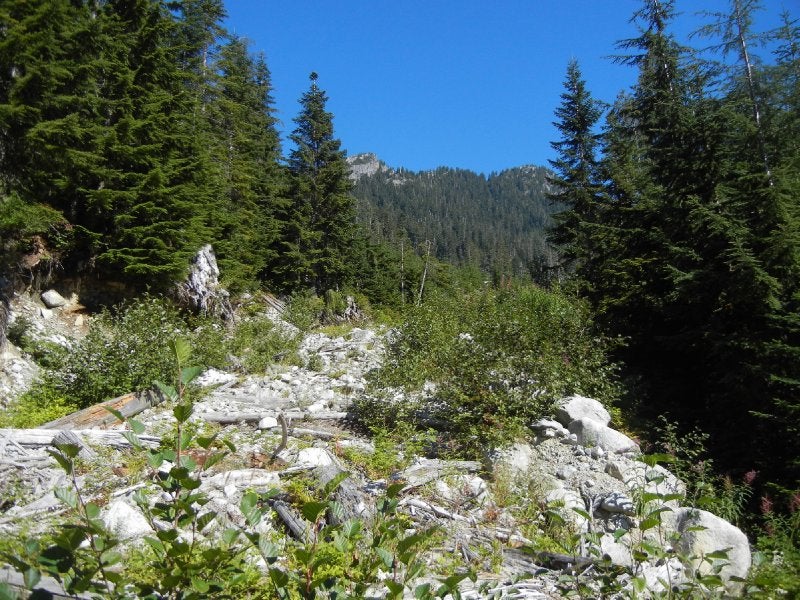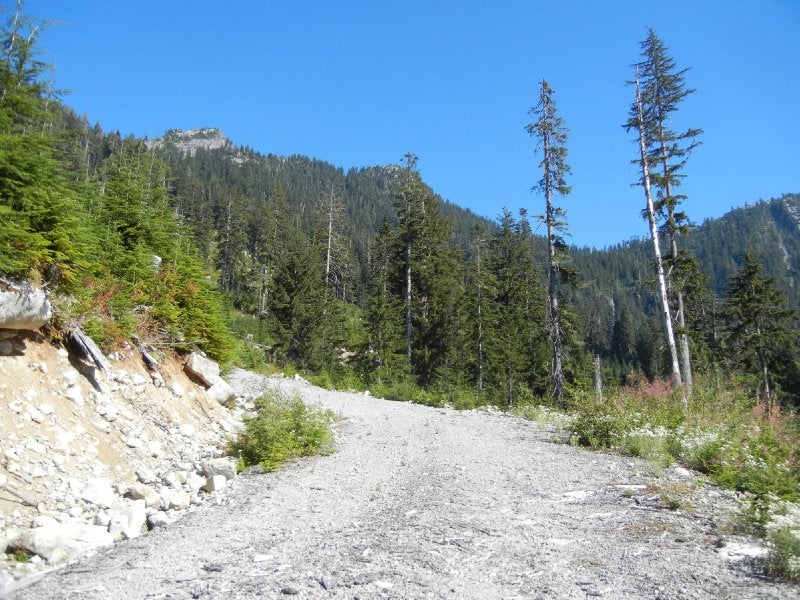 Reaching the first clear cut opening towards Varley; bushwack starting point. (Far left pic)Bare soil path on the right seems to be a beast/human trace which I followed. Following this made it quite easier than wacking the bush on ascend. (Centre left pic)The way the road extends further on horizontal level. (Centre right)A small mountain you will see through the trees as you descent. (Far right)A view of Panther when you look back. About 940m elev. here.
====BUSHWACK & SCRAMBLE
====
Four photos immediately below are not of ascent route as I diverted further west at descent when I took all photos. But the looks of bushyness & steepness are the same. This old clearcut bush at descent was probably the most challenging section in the entire trip. Some salmon berries present here which are bit prickly to hold. After clear cut portion all bushes are blue berries etc of prickless nicer ones.
The slopes at this clear cut area to early bushwack in the forest, as well as high elevation near alpine are very steep but for some reason it was rather easy to ascend/descend maybe because of good green belays. Nice big Western Hemlock stumps present like on far right pic. I say more than 500yrs old.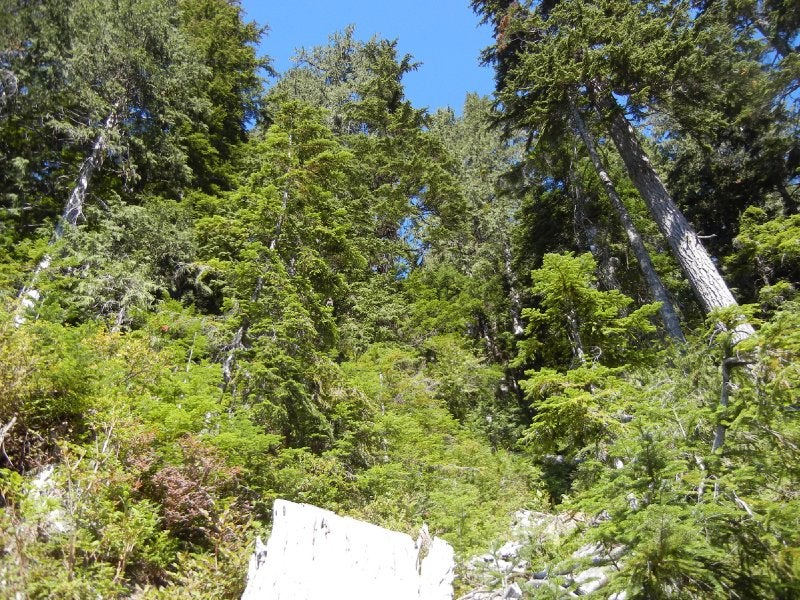 I chose a route near or along the ridge direct next to the creek(west of it). The most bushy section in this segment look like below. It is really rather pleasant nice easy bushwack. Dry and uncrowded bush.
More average state is like below. I just should have remembered during the descent that it gets very steep as I approach the logging road section. - As I saw how steep it was getting I thought I got descended into the valley too closely and diverted way out to the right side (west). Right photo shows a nice looking Cypress tree across the creek valley.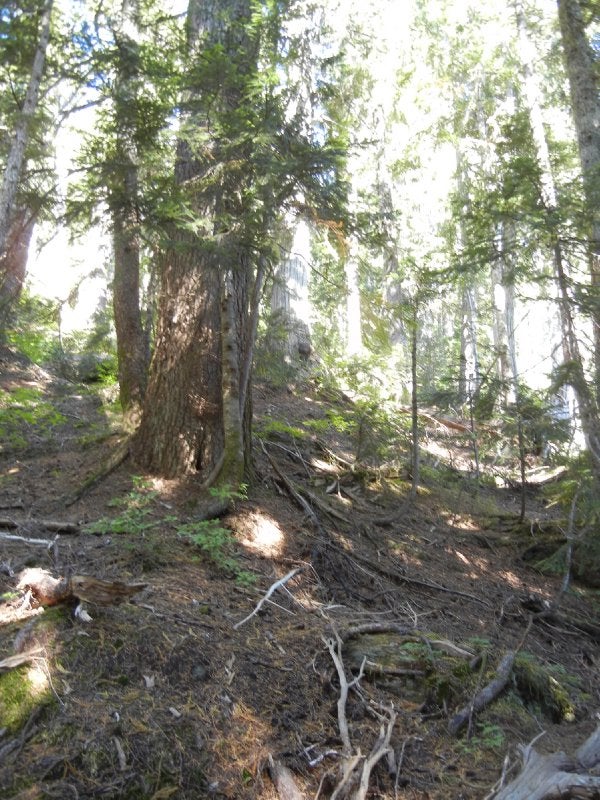 This nice under canopy state lasts for a while then it starts to open up and gets bushy. Yet it is a low bush and not too dense, unlike at Panther or Tetrahedron. See on far right pic, a knob along the south ridge on climber's right hand side. Around 1150m elev. here.
As you ascend further, you start seeing some bare rocks. Also start getting steep again like at bushwack starting area of the old clear cut site. I am traversing to right(or East) now towards the creek/gully I have been following along. About 1300m elev. here.
====ALPINE
====
I forgot to take a pic on the creek/gulley crossing itself but it was almost waterless bare rock sometimes steep slope. In the left photo; between the bush and the rock behind is this shallow(about 5m deep) gulley I have been accompanying along. A bit steep to approach and depart on both sides of the gulley but if you look around there are good firm holding tree branches etc available. Right pic is the view after crossing.
Scrambling after crossing the gulley looks like.
As gain elevation and continue to go diagonally eastward, the slope angle gets gentler. Some trees still present in some sections. Around 1450m.
See the enlarged left photo. This is a view when I looked down at around this location/elevation. I could confirm my descent route. The bare spot on lower west ridge and snow field on Panther aligns. Also there is a presense of a small dead standing tree on my downhill descent right.
Oh, what an excitement to gain the ridge this way for the first time by bushwacking! Almost there as I ascend on this dry grassed line(middle two pics).
Now I am on South ridge! Views open up dramatically... but I can find only so-so photos. The excitement feeling was not there as much when I was descending to take pics I guess. 1520m elev. here.
Fair amount of ups and downs along the ridge and several false peaks. Fun scrambling along this ridge though. Rocks at Mt Varley are very similar to that of Rainy peak; nice grippy solid granite. You can see north ridge on centre right photo. Far right is looking back.
====
PEAK SHOTS
There is a strangely very nice feeling present at the cozy peak, like the whole mountain itself.
There is a fairly large space 50m away(right pic) from the peak. Right side of this space leads to west ridge - another potential route(left pic).
North ridge, which branches to North West(left) and North East(right). Is a middle knob in right photo McNair Lion?
Nice looking glacier carved bowl facing Howe Sound.
Tetrahedron peak popping above Rainy peak(left two pics). Panther peak(right two pics).
Politope peak(left). Rainy lake - lake 7 dam waterfalls(centre). Panorama of Panther-Rainy/Tet- Politope(right).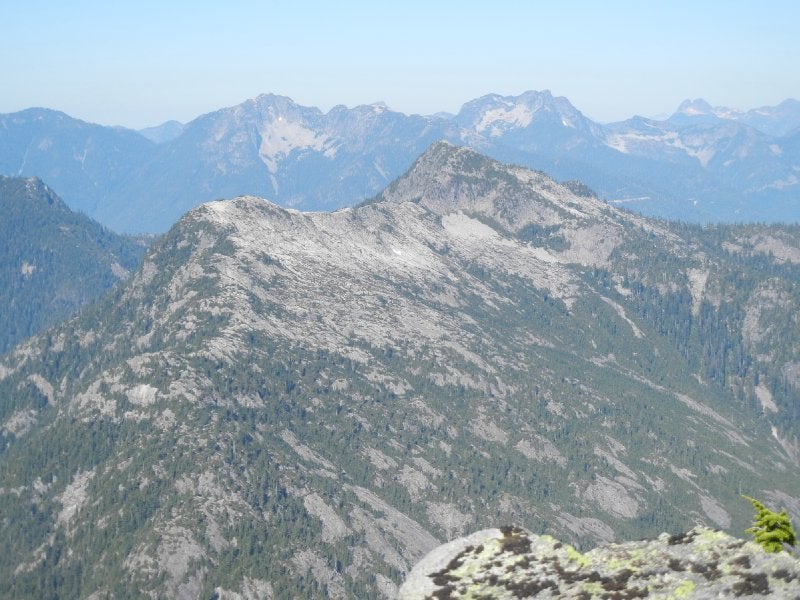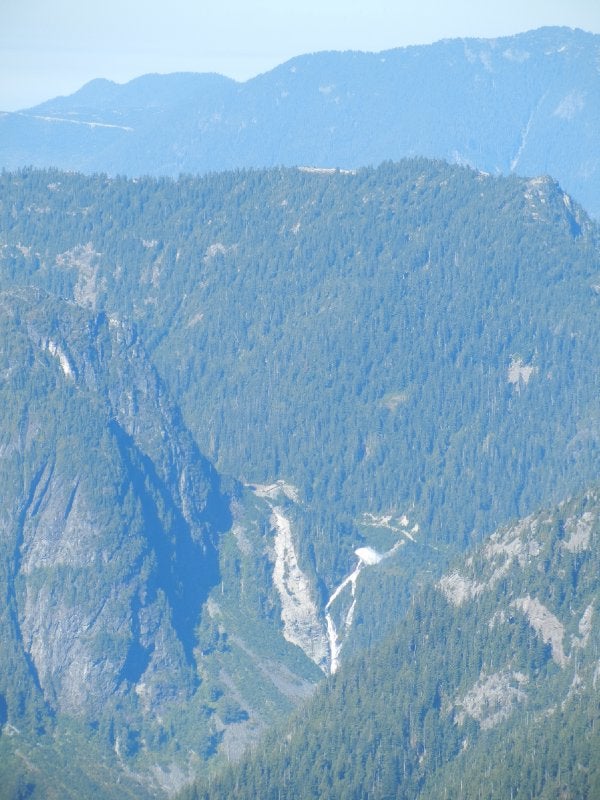 Mt. Elphinstone.
Towards Powell River side - West to North West direction. Anyone ascent any of those peaks there?
Mt Wrottesley and Meslilloet behind(left). Sky Pilot(centre). Some nice looking peaks & The Judge way behind(right).
Manquam. It is in the middle in the right pic.
Mt Roderick & Neobi?-Castle Towers-Garibaldi(from left to right).

Vancouver and North shore peaks were all hazed out.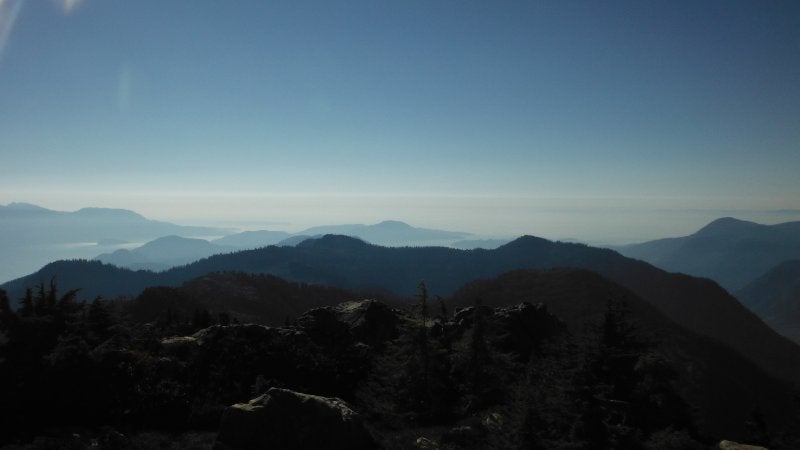 ====
SIDE NOTES
Although it doesn't show up as an enhanced image through CT website photo viewing, I found panorama photo viewing on computer directly quite pleasing. It shows great details of original multiple photos as they are stitched together.
For Macbook I found Hugin as a robust freeware that works for me.
====
CONCLUSION AND ABOUT BEGINNER BUSHWACK
Mt Varley provides a pleasant opportunity to practice bushwacking for beginners. The value of the ascent in terms of ease, view, and satisfaction for me is as high as other 4 main high peaks(Tetrahedron, Panther, Rainy, Steel) on the coast. I highly recommend this low key but great feeling mountain for beginners who want to step up to bushwacking.
In general, bushwacking seem to have little to no value for cardio exercize unless you can go super fast. But the excitement & satisfaction of bagging a peak with no trails existing is unbeatable. Also if done on steep slope with solid green belays, it gives a great opportunity to do various forms of upper body exercizes as you ascend and descend; chest, back, biceps, triceps, wrist and forearm gripping muscles. In particular, various types of one arm and two arm pull-ups can be enjoyed in varied grips & positions if you are so inclined.
Super Moderator


Join Date: Apr 2005
Location: Abbotsford, B.C., Canada.
Interest: Hiking, Snowshoeing, and Photography. Enjoying the outdoors fresh air and fitness experience.
Posts: 17,752

---
Hi Ben,you put a lot of time and effort in organizing the details of this one. Great detail.

If I understand correctly, You like the bushwhacking stuff. There are opportunities off Chilliwack Lake, did a few and filled my quota for the year.



K

---
Trailrunner...
you are a forest-mountain conquering machine


---
Your photos show very typical terrain for the logged out south coast. What I really like about this area is that the ridge crests offer remarkably good travel.

Thanks for the update. I've skied the same route to the summit of Varley and it is much better in spring as the bush is covered in snow. But hardly worth the $85 ferry cost for a day trip for two (just my opinion).
Off the Beaten Path
Join Date: Jul 2008
Location: Sunshine Coast, BC, Canada.
Posts: 876

---
KARVITK; Yes now I love 4 things equally; 1- imagining of the trip 2- trip itself 3- document the trip 4- look at what was documented and imagine of next trip. They are all so exciting!

Actually I prefer trails as it is lot easier to run faster- which is the ultimate joy to me. But I wanted to have some variation and try out some new things. Now I know I can do this if it is easy enough.

I gather you have ascent quite a few peaks by bushwacking over the years. Maybe you had a same excitement like I do now? What a satisfying proud moment it was when I stood at the peak yesterday after wacking all the way.


xj6response; Yeah my infatuation with alpine run is seasonal from mid August to snow comes. Then my passion goes to some other activities.

By the way I know you are heading to Rainy peak. But Varley was a great feeling peak and probably less of a bushwacking intensity needed than Rainy, even though Rainy peak route is flagged and there is a sort of a trail. I would recommend this peak also.


Stoked; You are welcome. The spring ridge ascent would be very nice I imagine. And yes if I don't have a property on Sunshine coast I don't know if I ascent more than one peak like Steel or Tetrahedron.



Super Moderator


Join Date: Apr 2005
Location: Abbotsford, B.C., Canada.
Interest: Hiking, Snowshoeing, and Photography. Enjoying the outdoors fresh air and fitness experience.
Posts: 17,752

---
Ben. Yes it is very satsifying to get on top and look down after a serious bushwhack. Thinking of you yesterday, the Strawberry Flats to Lone Goat Trail is perfect for trail running. About 12 km in and 12 km out.

K
Off the Beaten Path
Join Date: Jul 2008
Location: Sunshine Coast, BC, Canada.
Posts: 876

---
Yeah and I think I will get GPS soon to speed up the route following for sure.
Scaling New Heights
Join Date: Oct 2016
Location: Gibsons, BC
Posts: 88

---
Big ups to these old trip reports for the Rainy River area from trailrunner. So much time and energy put into the details here.
Hittin' the Trails
Join Date: Apr 2018
Posts: 10

---
This is the most ballin trip report I've ever read in my life. I would like to subscribe to future reports.

---
Quote:
Originally Posted by
woodland.telegraph
View Post
Big ups to these old trip reports for the Rainy River area from trailrunner. So much time and energy put into the details here.
Quote:
This is the most ballin trip report I've ever read in my life. I would like to subscribe to future reports.
Yes, and this is just one of many old contributors that made CT but stopped coming for well known reasons just like most everybody else. Who cares about Tetrahedron park, can we have more gun adds please

---
Good idea to 'up' these and so many other amazing TRs on CT.
I see TrailRunner now and then, at the Gibsons Starbucks and run into him on the Mt Elphie trail. Literally, RUN, 'cause he runs up and down that grinder of a trail while I am hiking at what I think is a good clip

LOL
---
________________________________
---
Last edited by xj6response; 07-05-2019 at

06:30 PM

. Reason: spelling
Posting Rules

You may not post new threads

You may not post replies

You may not post attachments

You may not edit your posts

---

HTML code is Off

---