Summit Master
Join Date: Jul 2004
Location: Vancouver BC
Interest: 10%
Posts: 5,022

Scuzzy Mountain (SE Ridge & A Long March)Sep 17 12
---
This trip sub title could also be The Circumnavigation of Cam's Peak as we turned the day into a enjoyable loop trip with a long slog on logging roads back to the start. See map at end of report for the route.
It's been near exact 4 years since EAK and I last got together for a trip (Mount Shuksan). With a week off and a nice looking Monday we tossed around a couple of options and settled on Scuzzy Mountain as I'd had a good look at it from The Nipple last year and TR's on CT by Too Many Canyons, Just B and MarkT2000 showed it to be a good place to visit.
Meeting Ed in Abottsford we drove out to Hope and up the Fraser Canyon to Boston Bar. Crossing the Fraser River we got on to the Scuzzy Creek FSR and followed that to just past the Scuzzy South Main junction where we crossed over Scuzzy Creek (at the bridge that has dropped a bit on the far side) to park at a junction.
From there we went straight (main road curves left) on an older spur that works it's way up into a valley southeast of Scuzzy. Quite a bit of alder on some sections of road but we make good progress to a junction further up. Here we had 2 choices: go left to work around the toe of the SE ridge and gain it from there or go up road a bit more then bushwack up to a lake (I think this is what Mark did).
We chose the former option and took the road down abit then around a cliffy area to reach a large cutblock. After a quick break we entered the forest next to the clearcut and hiked upwards contouring around some cliffbands that peppered the ridge here and there.
Ed and an idea of the terrain further up the ridge.
More bluffs were bypassed or scrambled up as we steadily gained elevation. Getting to an open area with a view of Scuzzy we took another break. The lake was below us and we had a good view of the pleasant looking ridge leading up to the peak.
Scuzzy Mountain. We'll be aiming for the col at left.
Traversing heather and rock slopes we reach the ridge proper and start up. A few cairns were spotted as we followed the crest.
Looking down at the lake from the ridge.
There was some more scrambling here and there. One rock face perplexed me for a minute or two. Ed comes walking up, takes a look and knocks it off just like that. I see the light and follow him up. The day was getting to be a hot one and we were glad there were a couple of old snow patches that we could dig into and add to our water bottles.
Old snow and the route ahead.
The terrain now opened up really nicely with lots of white granite with some talus and krummholz. The views were getting better too but there was plenty of haze in the air.
Loads of fun.
Gaining the broad summit area I touch the cairn, drop my pack and wander around to take some pictures. Some good views but the haze was the worst I've seen in a while.
NNE view across the summit. McEwen centre left stretching along the ridge to Kootomin off to the right (this is part of the traverse Just B did last year). Mehatl and Skihist areas at rear.
Western view towards Fraser with Nesbitt far left. Breakenridge and Traverse prominent on the skyline.
Looking back down towards the logged valley we came up with the ridge we gained above the lake (gained from the other side of it).
The summit cairn and lots of white granite. Laughlan/Nipple area at rear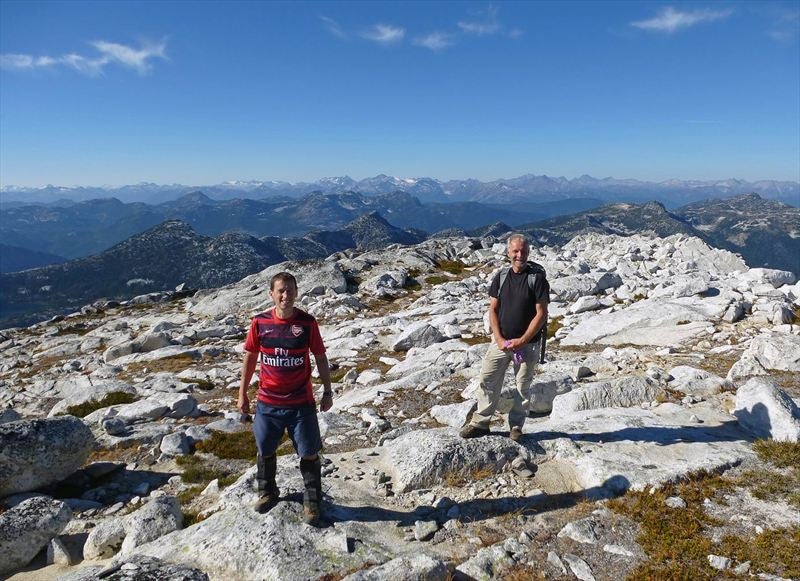 Me and Ed on the 2223m summit.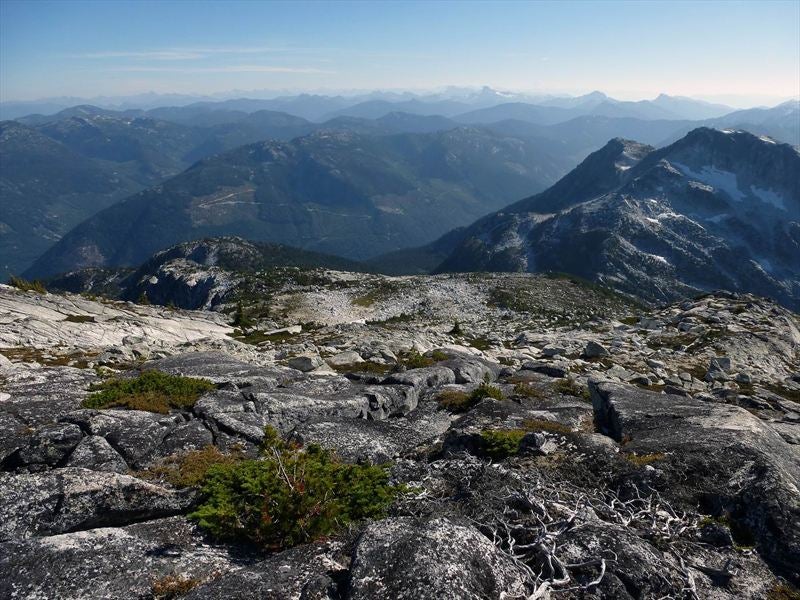 A view back down the SE ridge we came up with the southwestern ridge of Scuzzy leading over to Cam's Peak at right.
We spent nearly an hour on top and one thing we noticed to the WSW was the logging road that looked in really good shape that ended below the Fraser-Scuzzy pass. This road leads back down and around Cam's Peak all the way back to where we started. We had discussed going back the way we came then down to the lake and back to the logging roads we'd ascended on but (big but) we'd heard good things about the west ridge of Scuzzy and that nice looking road looked enticing from up here.
The view down the alluring west ridge to the pass with the good looking logging road below and left of it. Fraser Peak rising above.
It would be a fairly long walk if we were to take this road but the idea of a loop sucked us in and we were soon heading down the west ridge. Plenty more of the granite rock interspaced with ramps of heather made for a great hike and scramble downwards.
Cool white granite with Ed circled for scale.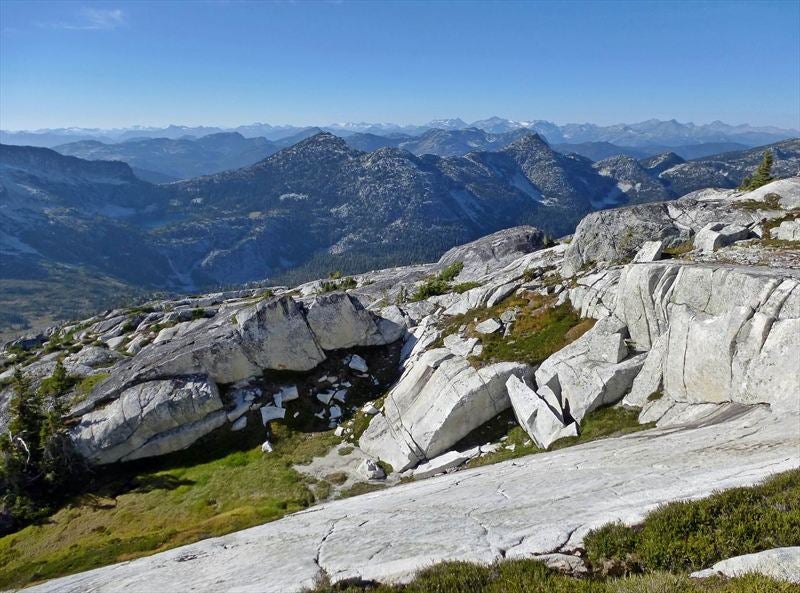 Slabs and ramps.
Further down we ran into some small and medium sized gorges that ran perperdicular to our descent route but we could easily scramble down and around them.
Cam's Peak.
Further down one large gorge had us search out a route to safely descend. By going a bit south we found some ramps and boulders to work our way down.
We were far left and ended up coming down just past centre right.
After that there was more bush and forest with a bit of rock as we made our way to the nice looking meadow at the Fraser-Scuzzy Pass. Clear water was flowing very slowly there and we took a chance refilling our waterbottles.
Ed at the meadows.
Heading southwards we went up a small rise then started the drop down through forest towards the logging road. The top section of a large slab was crossed then descended on it's left side. A bit more forest and we emerge at the top of the cut block.
Cut block, upper road and Cam's Peak.
Soon we are on the road and following it down the valley. The upper sections were in superb shape. Lower down there were a few dense sections of alder but for the most part we had a good pace going. Finally after passing a couple of junctions we reach the main Scuzzy Creek Valley and turn left. After a bit we cross a good sized washout we see ATV tracks. The road varies between a broad 2 lane type expanse to ATV or less wide bushiness and some eroded sections.
We've been walking at a good pace for a while now and the sun was setting. Our feet were getting a bit tired too. The road seemed to go on for ever. After passing by a section damaged by landslip we knew we were getting close and with a bit more bushiness we get back to my vehicle, grab a couple of beers from the creek and chill out by headlamp.
Time up and time down are almost the same as we took the very long route back. At least 15km of road walking. Good thing we had 4 years of hiking tales to catch up on.
Once back on the highway I had to fight to stay awake as we drove back to Hope. McDonald's food and coffee did their magic and the rest of the drive went well. Thanks for coming along Ed. I hope it won't be 4 years before we next get out together.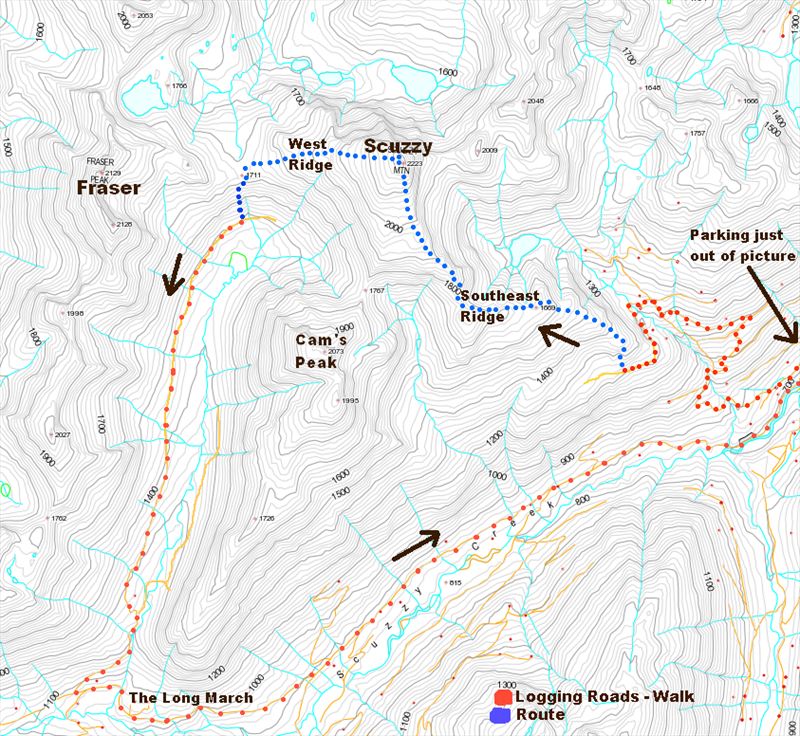 Map of route.

Southwest to northeast summit panorama.
Off the Beaten Path
Join Date: May 2009
Location: Chilliwack, BC, Canada.
Posts: 948

---
Nice views up there Simon!
Looks like a fun place to playaround.
Thanks for the report, pics, etc.

Cheers,
Kelly

Super Moderator

Join Date: Aug 2004
Location: Climbing, a mountain, Canada.
Interest: climbing and spraying
Posts: 16,175

---
Rich So and friends were up there a month or so ago. Camped at the col and did Scuzzy and Fraser. Rich said they took bikes up and on the ride down the aldered sections made for some near-wipeouts.
Summit Master
Join Date: Jul 2004
Location: Vancouver BC
Interest: 10%
Posts: 5,022

---
Yeah, I read his blog a little while back. He got some great pictures on that trip. And they found a nice tarn on the west ridge that we completely missed.


Summit Master

Join Date: Jun 2003
Location: Vancouver, BC, Canada.
Interest: Backpacking, scrambling, skiing, mountain biking, skim boarding, running
Posts: 3,165

---
Big day as usual! Good job. I've been interested in Scuzzy ever since I saw the name on a map. Love it.
Summit Master
Join Date: Sep 2003
Location: Da\'Wack, BC, Canada.
Interest: Hiking, flyfishing, camping, photography, kayaking, swimming, x-country skiing wana get my open water dive certification... scrabble, mean yatzee player.........
Posts: 5,392

---
Those meadows look pretty wonderful. I know what you mean about the haze, it was pretty bad for us last week too. Scuzzy looks to have some pretty good rambling potential, love the granite.


Off the Beaten Path
Join Date: Aug 2009
Location: , , .
Posts: 889

---
Sweet terrain and route.
Off the Beaten Path
Join Date: Jul 2008
Location: Sunshine Coast, BC, Canada.
Posts: 883

---
Interesting report on some exotic location(for me). Great looking peaks.
Summit Master

Join Date: Nov 2002
Location: Forest Gnome Cabin, , Canada.
Interest: Outdoor stuff...especially scrambling,trailrunning,mountain biking,kayaking,and hiking, and of course photography
Posts: 13,876

---
Q: How many beers to forget 15kms of slogging road?
A: Many

Great scenery, thanks for the report![8D]

High on the Mountain Top

Join Date: Jul 2007
Location: Sunnyvale Trailer Park, , Canada.
Interest: Ball hockey, landscaping, tree collecting.
Posts: 1,392

---
I've heard that area has extensive granite slabs, but it's hard to visualize when you drive past on the highway. Quite a while back we worked at Scuzzy Creek on the little hydro project. A guy I used to hike with was an excavator operator at Scuzzy, and stayed at the campground - One night he got wasted at the Pig's Ear saloon, then rolled his truck on that steep approach coming down to the creek crossing. He crawled out of the wreck, up about 100m to the road, then all night back to North Bend. Broken arm etc.. but fully recovered.
Not sure what that has to do with your report, but that's the kind of thing I talk about on 15km road walks

Summit Master
Join Date: Jul 2004
Location: Vancouver BC
Interest: 10%
Posts: 5,022

---
Quote:
quote:
Q: How many beers to forget 15kms of slogging road?
A: Many

Great scenery, thanks for the report!
Mick, after my Eyeore/Moomin trip the week before I enjoyed one beer afterwards. Half an hour later driving down Duffey Lake Road (just before the big drop down to the valley) I went through a police road check. Pretty rare (and on a Thursday) but I was glad it was just one beer. Especially just after a hike when you have depleted energy.
Now, if I was car camping or something - that's a bit different

.
Elkaholic, your hiking friend is a lucky man and hopefully reformed.
High on the Mountain Top
Join Date: Sep 2005
Location: Abbotsford, BC, Canada.
Interest: climbing, hiking, birding, art, writing, reading, volunteering in corrections
Posts: 1,222

---
It was a fun day and a nice traverse of the peak. Thanks for the invite Simon. I struggled hard with the uphill portion of this trip. The long walk out was long.....but at least it was down. The west ridge has alot of nice superb little walls with fissures, cracks and chicken heads, in very nice granite.
Summit Master

Join Date: Oct 2006
Location: Popkum, BC, Canada.
Interest: Hiking, biking, kayaking, swimming, tai chi, meditation.
Posts: 6,099

---

It's nice to see you and Ed out again Simon. How wonderful, I'm sure the mountains received you with open arms!

Lovely pictures of an epic adventure.

Lynn
Posting Rules

You may not post new threads

You may not post replies

You may not post attachments

You may not edit your posts

---

HTML code is Off

---