Scaling New Heights
Join Date: Sep 2011
Location: Chilliwack, BC, Canada.
Posts: 56

Old Cheam trail
---
The objective today was to explore the original trail up to Cheam Peak that comes up the Fraser Valley facing side, starting from the Bridal Falls FSR. Our goal was to try to reach the summit, though I wasn't sure if we would make it in the time we had due to trail conditions. Turned out that since the trail was unmarked, quite overgrown in places and also partially recontoured we didn't even make it to the ridge. Here's a map with the trail (yellow) and the part we hiked (red border):
Just a brief summary of the trip with photos:
5:23 AM - Started hiking at the bottom of the Bridal Falls FSR.
7:08 AM - Started on the actual Cheam trail (49°10'20.84"N 121°43'54.09"W). Up to the Anderson Valley, the trail varied in "quality"; in some places it was pretty good while in others it was overgrown and difficult to follow. At one point (49°10'21.23"N 121°43'25.84"W) we got confused about the direction of the trail; it seemed (to us) to continue in the direction that it had been going when instead there was a sharp switchback. Needless to say, we wasted a fair bit of time there trying to locate a trail where one didn't exist. Other than that, it was mostly just a matter of following the tree swath and bushwhacking.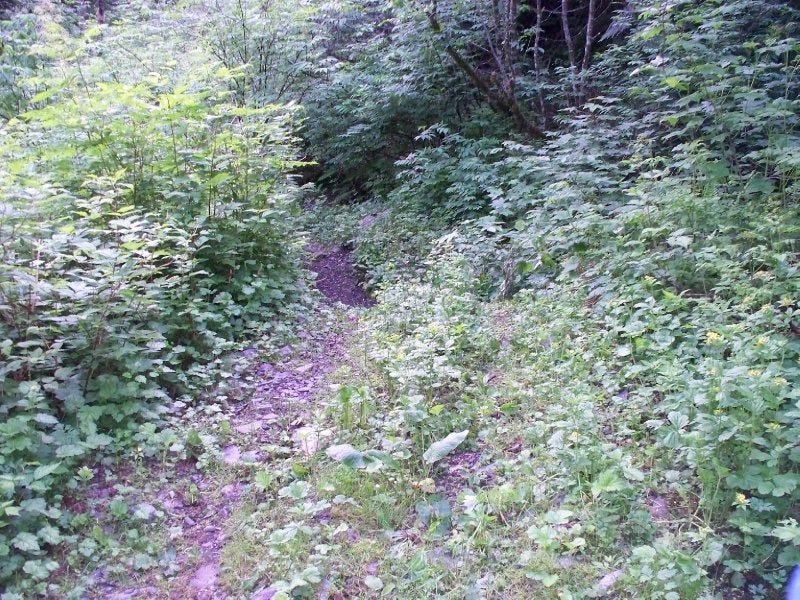 10:30 AM - Reached the Anderson Valley. Just before, we saw "Cheam" with an arrow spraypainted onto the rock. There were also some great views of the Fraser Valley just before turning in to Anderson.
The views of Cheam from here were great, but the photos turned out overexposed due to the sun:
Shortly after turning south along the valley, the road became one long Alder thicket, with some devil's club mixed in for good measure. We bushwhacked through (sans machete) for about 40 minutes or so, coming fairly close to the south end of the valley where the road turns (49°10'33.22"N 121°42'50.87"W). By that time we were ready to have lunch and knew there was no way we'd make it to the peak today, so the majority vote was that we should turn around.
12:44 PM - Started heading back down again (after lunch).
2:25 PM - Reached the end of the Cheam trail at Bridal Falls FSR. I ended up doing a good bit of the way down without one of my shoes, as it got badly damaged on one of the slidy sections. It wasn't much of a problem until the gravel FSR.
An interesting hike with some unpleasant sections, but overall quite enjoyable. Lots of bear and deer scat on the trail, but nothing very fresh, and we didn't see much wildlife at all. I had planned on flagging the route on the way down, but managed to lose my roll of flagging tape, probably in the alder.
According to Google Earth, the statistics were (roughly): distance 16km, elevation gain 1170m.
---
Last edited by zeljkok; 11-12-2021 at

04:42 PM

. Reason: Add FV Prefix

---
Nice one, thanks for sharing your report and photos. I consider the walk up to the paraglider spot from the bottom a slow and never ending death grind. If I was in your hiking boots I would of drove up and parked at the Paraglider launch, then hike from there, then perhaps you could of made it.




Summit Master

Join Date: Oct 2006
Location: Popkum, BC, Canada.
Interest: Hiking, biking, kayaking, swimming, tai chi, meditation.
Posts: 6,099

---
That's a lot of bushwacking. Good job and lovely report!
High on the Mountain Top
Join Date: Mar 2004
Location: North Vancouver, BC, Canada.
Interest: hiking on and off trails , maintaining certain trails. recumbent bike on log/mining roads, and KVR, and for excercise in absolute comfort.
Posts: 1,363

---
Did that a long time ago when the road was in good shape. Camped on the ridge with the highest concentration of mosquitoes available. Nice hot climb and "Hills" started at the pavement and went to the top of Cheam and down to pavement on a sunday, saying he had sore heels but it was a nice hike. Pity how things grow over so quickly.
Scaling New Heights
Join Date: Sep 2011
Location: Chilliwack, BC, Canada.
Posts: 56

---
@AcesHigh: Yes, it would definitely give us more time (and energy) if we drove up the Bridal Falls FSR. However, I don't have a 4x4 vehicle, and I'm not sure if my car would make it...

@Flowing-Brook: Thanks!

@brucew: I think it's too bad that the trail is so overgrown now; it's really a beautiful route, with the views of the Fraser Valley on the one side and then Cheam on the other. Of course, the Spoon Valley trail is gorgeous as well, but being so popular it's rather "busy" and the road is long and rough... Also, I can't imagine that Chipmunk Creek FSR is getting any better since it's decommissioned; at least Bridal Falls FSR is still maintained. I'd like to spend a bit of time clearing the old trail, but I know that since it's not used very often it wouldn't take long for it to grow over again. The resloping that's been done there doesn't help either.
Hittin' the Trails
Join Date: Nov 2021
Posts: 1

Never too late
---
I have a flexible 4x4, tools, and the will power to resurrect this trail!
I've been up to the hang glider lookout plenty of times
I've heard rumors about said trail and now really want to make this a reality!
Hoping to get going on this project next year. Its too bad I didn't see this in August and used the fall-winter period to do some bush-wacking.
Looks like this trail has potential to be a gem!
Thanks @
jonhall
for the detailed maps, waypoints and descriptions. I'll be sure to bring flagging tape!
Posting Rules

You may not post new threads

You may not post replies

You may not post attachments

You may not edit your posts

---

HTML code is Off

---