Headed for the Mountains

Join Date: Jan 2005
Location: Armstrong, B.C., .
Interest: hikingbackpackingcrosscountry skiingsnowshoeing
Posts: 162

alps Alturas
---
We managed to fit in 1 more alpine hike before this snow arrived...from a lovely base camp on Slocan Lake in New Denver, the Alps Alturas hike was a great day outing! Copeland's book " Where Locals Hike in the West Kootenay" provided a good description ( except for the new road just before the turnoff at 3 km that added 20 km. to our drive...oops!) and though the access was almost 30 km. on gravel road, the road was in fairly good shape and also had many scenic vistas!
The hike initially follows an old mining road and then enters a basin with a few remains from an old mining cabin...amazing how far they could travel more than 100 years ago! A few bear scat on this part of the trail kept us alert and enjoying the berries too.
A great airy traverse on the slopes of Mt. Dolly Varden brings you to a gorgeous lake basin with a small glacier on Mt. Marten. The rock in this area is beautiful colors and shapes!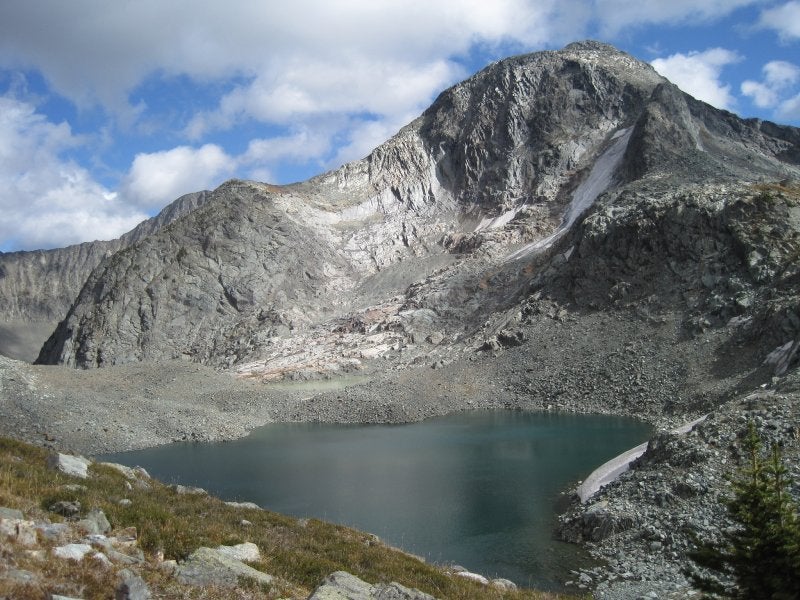 The end of the official hike is here but great scrambling abounds in the immediate area. We spent another hour or so heading up to the north and were rewarded with great vistas of the Selkirks and Monashees.
A fun hike back and then a lovely evening on the shores of Slocan lake...life is good!
Super Moderator


Join Date: Apr 2005
Location: Abbotsford, B.C., Canada.
Interest: Hiking, Snowshoeing, and Photography. Enjoying the outdoors fresh air and fitness experience.
Posts: 17,919

---
Gorgeous shot of that lake and the mountain at back.

K
Hittin' the Trails
Join Date: Jul 2009
Location: Armstrong, BC, Canada.
Posts: 9

---
Hey mtn.mom, nice looking hike... how far/high did the trail run? Looks like somewhere I might hit if it warms up again!


Headed for the Mountains

Join Date: Jan 2005
Location: Armstrong, B.C., .
Interest: hikingbackpackingcrosscountry skiingsnowshoeing
Posts: 162

---
The hike is about 10 km return and starts at 1762 meters. It climbs almost 600 meters to trail's end. The forecast looks great though I don't know how much snow the kootenays has received these past few days. Enjoy if you do get the chance!
Posting Rules

You may not post new threads

You may not post replies

You may not post attachments

You may not edit your posts

---

HTML code is Off

---