Happy Canada Day at Edwards Lake Hut
---
There was a lot riding on the success of Canada Day weekend. It was the only weekend of the summer where my boyfriend (Grisha) would be in Vancouver and available to go on a proper mountain backpacking trip, as he is spending the summer slaving away on a masters degree in mountain-less Halifax. It was also a chance to spend some time with friends we don't see often enough and eat some great food. Tetrahedron Provincial Park was picked as a destination as none of us had been there in summer before and it was low enough elevation to be (mostly) snow free at this time of year. Also, it has huts and huts mean cooking out of rain and bugs.
Unfortunately, we left it too late to make ferry reservations so we were faced with getting up at the ungodly hour of 5:00 to try to pick everyone up, form a car convoy and meet at the Horseshoe Bay ferry terminal. We made it there by about 6:40, but were still about 30 cars short of making onto the first Langdale ferry of the day. We had to wait around for the 9:30 boat, then make the drive out past Porpoise Bay to the start of the Gray Creek FSR. At this point I should mention that our car convoy consisted of the lead vehicle, a Ford Explorer, and a rented Pontiac G6. We crawled slowly up the 11km of logging road, with the G6 nosing slowly around the potholes and waterbars. It made it up though: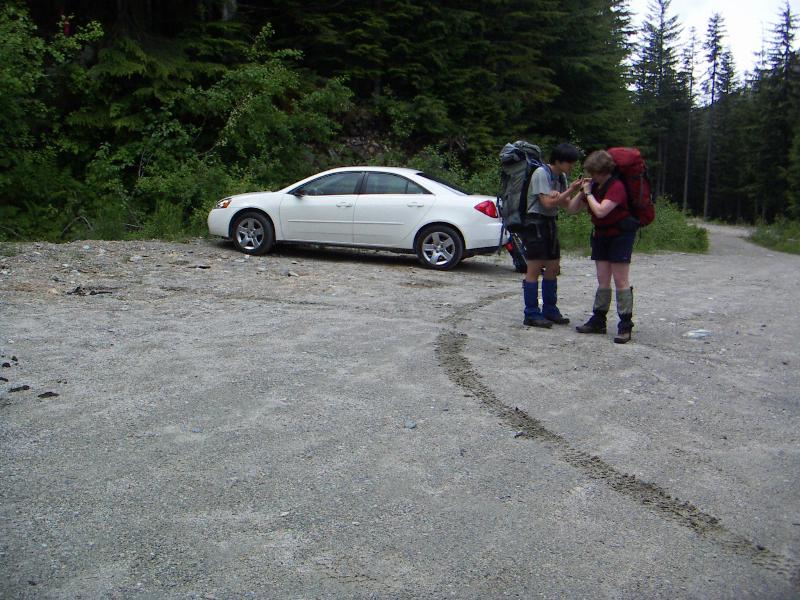 Soon we were starting the hike on the old road. At the top of the hill after the Bachelor Lake turn off, we stopped for a quick lunch
and a nap for someone

The first few kms of trail are along an old road through a clear cut
Soon, the trail cuts down into the forest near Edwards Lake. That is when the trail becomes alternating mud, snow and creek.
Soon we were at the Edwards Lake cabin, 4.5km from the trailhead.
The plan had been to go to Edwards Lake cabin, take a break and decide whether to push on to Steele cabin or McNair cabin. A dayhiking couple had told us there was 10ft of snow on Steele so that was out. It was starting to sprinkle and looked like it might be worse. Some of the group also had had enough postholding and sliding in the crappy spring snow so we decided to call it quits and stay at Edwards Lake hut. We celebrated the start of Canada Day weekend with a very Canadian cocktail - the caesar:
Saturday night was a calm affair (once the snowball fight died down at least). We were joined in the cabin by a tenting couple from Vancouver, a couple of high schoolers from Gibson using their new Outdoor Ed skills (and kicking my ass at Boggle) and later, by quirkygal's group. There were 13 in the loft on Saturday night, 1 on the balcony and 2 in a tent outside.
Sunday was Canada Day so we began the day with a Canadian feast of bannock with maple syrup
.
We also had some Canadian lake trout (packed in frozen, not fresh caught unfortunately)
After breakfast we headed out into posthole-hell towards Chapman Lake.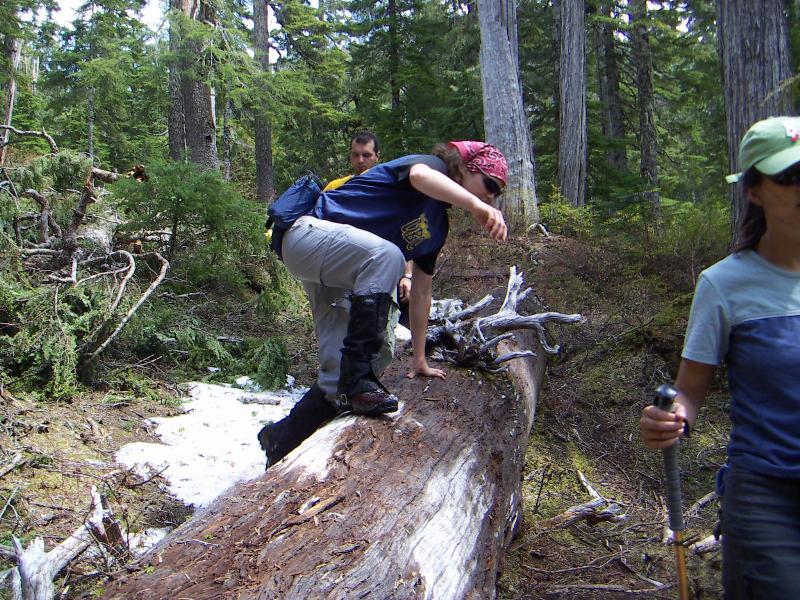 We took a long lunch break at the bridge over Chapman Creek
Soon we reached Chapman Lake and did some "dangerous" boot skiing down this slope - careful, don't fall in the still partially frozen lake!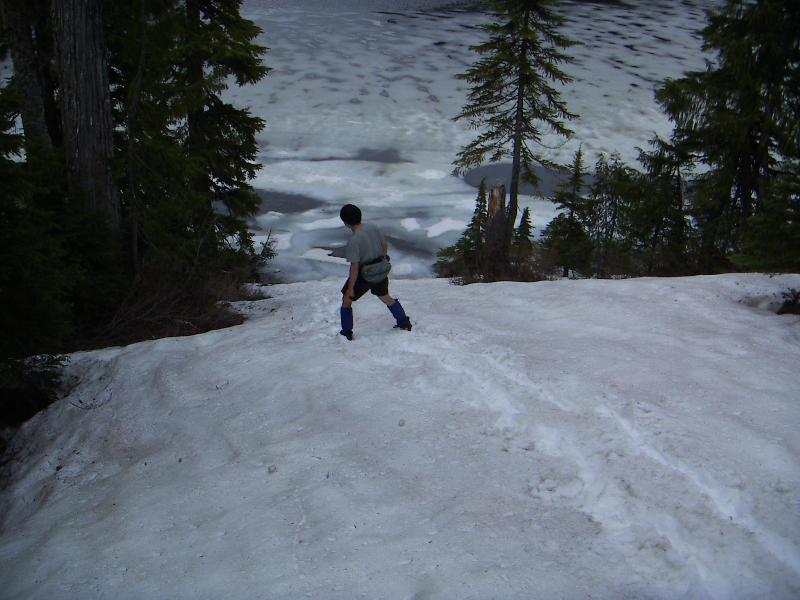 After our hike we arrived back at the cabin to find that our 2 Gibsons teens had been joined by 3 more and a board game fest was underway. We lazed around for awhile before starting our Canada Day feast of Canadian food. Kraft dinner, split pea soup with ham, risotto with Montreal smoked meat, butter tarts on the Outback oven, and a birthday cake baked for Canada. Instead of singing happy birthday we sang O Canada - it felt more appropriate.
The next morning we got up and hit the trail by about 11. First we had to take down our Canada Day decorations though:
(The store in Horseshoe Bay has some great lightweight waterproof [plastic] Canada Day decorations for the ultra-lite backpacker if you are interested

). The hike out to the car was uneventful, as was the long, long ferry lineup (actually, it wasn't that long, it just seemed that way since it was so hot).
I quite enjoyed my time in Tetrahedron in the summer. The snow kind of got in our way and kept me from heading to either McNair or Steele as planned. Oh well, I guess I just have another excuse to go back. Overall, a great weekend with friends.
Summit Master
Join Date: Sep 2004
Location: Vancouver, BC, .
Posts: 5,612

---
Congratulations on a very Canadian-looking feast on Canada Day. I spent Canada Day in the U.S., go figure [:0]
Off the Beaten Path
Join Date: Jul 2002
Location: BC
Posts: 633

---
LOVED your canada day decorations! it was great meeting you and your group.

Super Moderator


Join Date: Apr 2005
Location: Abbotsford, B.C., Canada.
Interest: Hiking, Snowshoeing, and Photography. Enjoying the outdoors fresh air and fitness experience.
Posts: 17,919

---
A good way to spend Canada Day indeed, looks like you very much enjoyed yourselves. That food looked tasty and interesting.

Regards,
Posting Rules

You may not post new threads

You may not post replies

You may not post attachments

You may not edit your posts

---

HTML code is Off

---