Summit Master
Join Date: Jan 2005
Location: , , Canada.
Interest: Hiking, hunting, fishing, and many others.
Posts: 3,951

Bradian
---
It seemed to be a weekend where my buddies were wanting to cross some things off there, "ToDo" list.
Trojan Troy had been asking me to take him up to the Bridge River country for some time now since I was a bit familiar with it.
The plan was to search and find the so called ghost town of Bradian.
That sounded right up my alley so of course I just had to go for it.
I was hoping for a great exploring adventure with some hiking and bushwacking involved. Unfortunately we were able to drive right to it.
It was still worth the trip, with all the country we travelled through and wonderful sights to see, I would not have missed it for the World.
I picked him up at 4:00 am. last Saturday morning and were on our way.
First leg of the trip was via Squamish, Whistler, Pemberton, and over the Duffy Lake road to Lilloett.
A brief stop at Shannon Falls by the Chief to exercise the legs.
Then some pics past Squamish. I had to edit these alot because of the morning glare.
Another pit stop at Brandywine Falls. Forgot to look and see how many feet high it was and who guessed the closest to win the bottle of Brandy.
Since we seemed to be stopping at every water fall, I had never seen Nairn Falls so we hiked the kilometer and a half to take a boo!
Scenery near the Wedgemont TH I think, not sure, it might be past Pemberton.
Along the Duffy Lake road.
Some where around the Joffrey Lakes TH.
Just before Duffy Lake and Blowdown FSR.
Duffy Lake.
Sorry little Whiskey Jacks, we have no food with us.
Scenery heading down to Lilloett.
Seton Lake.
Start of the second leg of the trip from Lilloett to Bradian. Getting gas and yeepee...it is only $1.14 a litre. Cheaper than Vancouver.
It is about a hundred kilometers to the next gas station in Bralorne.
Last time I was there gas was twenty-five cents a gallon in Vancouver and Bralorne was charging a buck-ten. The road at that time was all gravel and narrow.
Troy by the Water Wheel and me by the Nephrite Jade boulder.
On our way up Bridge River.
Remnants of the old hydraulic Placer Gold mine.
Terzaghi Dam. Oops...took a wrong turn and went into the tunnel.
Carpenter Lake, (Man-made sediment pond for Bralorne Gold Mine).
Hey, where's the flood?
Two hours later, dodging small rock slides and, "Hey, the road is now mostly paved", we finally reach Bralorne. No time to stop, Bradian is some where not far ahead according to the map.
Bradian.
Not quite what we expected, but interesting.
The Houses consist of two floors. Main floor and basement with out-houses and some even have sheds.
Interesting things around Bradian.
Scenery seen from Bradian.
This is the only house with power and phone.
We were told that the owner stays there when ever he comes up with his family.
The township is about a hundred acers, and he owns it all.
Up-Town Bradian.
This was good but we needed a hike or adventure, so we carried on up the road and found the old Pioneer Mine.
Well that was better. Did a little more exploring.
Third and last leg of the journey. Back to Bralorne, Gold Bridge, then up toward Gun Lake to see what the Lajoie Dam looked like and then back to Lilloett. The Hurley River road was closed so we decided to take the Fraser Canyon back.
Bralorne
Scenery on the way down to Gold Bridge and Downton Lake.
Lajoie Dam, Downton Lake and scenery.
Hurley River meeting the out flow from Downton Lake as both flow into Carpenter Lake.
West end of Carpenter Lake.
Almost back at Lilloett. Bridge River flowing into the Fraser.
Along the Fraser between Lilloett and Lyton.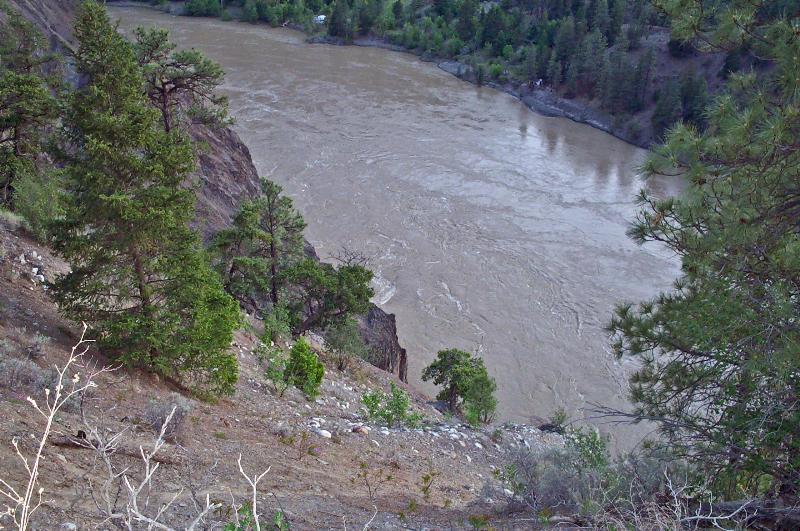 Stopped at the Ferry launch at Lyton to see if they were really on strike.
It was a interesting trip. Even though we did not hike much, driving from 4:00 am. Saturday morning and getting back at 1:30 am. Sunday morning with few stops, my legs were pretty stiff as if I did hike.
We talked to a very informative fellow riding his bike between Bradian and Bralorne and I asked him if there were any good hiking trails around there.
His reply was, "Higher up the timber is open, so just follow your nose, don't need no dam trail". Yahoo! My kind of country.

---
Wildman

---
Good for you two...a good day's explore
Summit Master
Join Date: Feb 2004
Location: , , USA.
Interest: Hiking, photography,
Posts: 3,988

---
Thanks for sharing your trip. Beautiful country!! Fun ride along. Those waterfalls are way cool! "ROADTRIP" [8D]
Summit Master

Join Date: Jan 2004
Location: Mission, BC, Canada.
Interest: TO GET OUTSIDE! Hiking, backpacking, canoeing, bushwacking, scrambling
Posts: 4,934

---
Nice roadtrip

Couldn't have picked a better time, the gas is so cheap! [

]

Summit Master
Join Date: Jan 2005
Location: , , Canada.
Interest: Hiking, hunting, fishing, and many others.
Posts: 3,951

---
Hey, we hiked round trip at least three kilometers and climbing around that mine was just a formable as any peak I scrambled.

Join Date: Jan 2006
Posts: 28

---
Did the circle tour along harrison west to Duffy lake rd-Lilloet(LITTLE WET)through the canyon-home to Deroche on sunday.10 hours and 500 km round trip.Roughly 170-180 km on the logging road but worth every pot hole.Seen 22 deer,2 bears (got video of 1

[|)] ) 1 grouse,and 1 beaver.
There is a ranch near Gun Lake that caters to tourists,which can be taken into the Spruce Lake area.My wife and i want to do some exploring in that area,cuz there is a possibility of employment. ( what a shame getting paid to work the outdoors [8D] [

] )That area in my mind has to be the second most beautiful place in BC next to Cathedral Park.Havent been up there for many years so its time to return.By the way did i say I LOVE THIS PROVINCE TK
Love your pics of the abandoned mine,its cool seeing part of our provinces history.One other cool place i like to visit every couple of years is Granite City.The cemetery there has grave stones that are dated as far back as the 1880-1890s.Can you imagine what these people had to endure back then as pioneers (i was born 100 years to late GRRRR !!!!

[V])
Super Moderator


Join Date: Apr 2005
Location: Abbotsford, B.C., Canada.
Interest: Hiking, Snowshoeing, and Photography. Enjoying the outdoors fresh air and fitness experience.
Posts: 17,919

---
Wally, fabulous report full of pictures which I was eager to view. Of what used to be my old stomping grounds from Lytton to Goldbrige for five years in the 80's.

What a drive with great rewards.

Regards,
Summit Master

Join Date: Oct 2006
Location: Popkum, BC, Canada.
Interest: Hiking, biking, kayaking, swimming, tai chi, meditation.
Posts: 6,099

---
I enjoyed reading your report, and ya did get a hike in

.
I loved those waterfall pictures.
Happy trails,
Lynn
Summit Master
Join Date: Jul 2003
Location: PNW
Posts: 8,494

---
I did this similar trip with my 4x4 club.Of course we ran a few side trails too,but it was mostly a sightseeing trip.Nothing has really changed since I was there last.Wouldn't mind going back to this area.Thanks for the update

High on the Mountain Top
Join Date: Nov 2003
Location: West Coast, B.C., .
Interest: travel/ hike/camp/ backpack/canoe/ photography/ snowshoeing/x-country ski
Posts: 1,416

---
Nice photo report of your very long looped road trip. We explored that area a few years ago, but not all in one day.....good to see it again.
Off the Beaten Path
Join Date: Sep 2006
Location: maple, , Canada.
Interest: hiking
Posts: 534

---
Great trip and pics Wally, This is my favorite type of trip report, I remember been up in those areas, when my dad and uncle, use to take us there back in the early 70s, we were around 12 or 13 and thought we were a million miles from home, have to get back there with my Son, and Dad, and see it again.
Posting Rules

You may not post new threads

You may not post replies

You may not post attachments

You may not edit your posts

---

HTML code is Off

---