Old Baldy Mountain at GR356417 -alternate approach
---
Views north from the summit:
In various guidebook literature 2 approaches are suggested: Boundary Ranch and Evan Thomas. I expected difficulties on Evan Thomas because of this spring runoffs (I watched that mayhem remotely, but think first time today seeing Evan Thomas devastation I understood true proportions); still I decided to try. Obviously trip ended in success, but not without couple of twists. First route overview:
First hiccup occurred when I took that horse path just minute before cairned trail by McDougall creek; I must be quite a dumbass, because it took me 10 minutes to figure out I was going in wrong direction [:0] Starting up the right path, it became obvious right away there will be problems as I had to cross 2 washouts in succession. I started questioning my wisdom, but about 15 min from Evan Thomas junction there was a fork: Obvious, wider trail by the creek -- correct path, described in Nugara and Daffern guides -- had 2 logs placed across. Several flags directing left, to narrower but fairly well defined trail. Well, if that was not a hint, I don't know what is -- so I took a left. I don't know if this trail was just made this summer (a bit too well defined for just one summer), but it wastes no time rising up from the creek. About an hour of steady climb, and it arrives to burned area on lower ridge (waypoint "Burn"). Watch for flag on other side; now faint path turns left and within a minute exits at bottom of humungous boulder slope:
No trail after this (if you ever take this path, coming down watch for a flag where trail comes out of forest). This slope is as uncomfortable as it looks on this photo; there is no easy way. I churned my way up the best I could; higher up it becomes quite loose, before it exits on upper ridge. Still no trail or cairns, but I knew I was on the right track. Lots of burned areas here and some mild bushwhack; finally it ends at low end of Old Baldy ridge (Waypoint "Ridge") and views really open up:
1- Old Baldy Ridge; my objective rising just right of center
2- Daffern "357404" extension I believe
Steepish slope with some broken plates spits you out to ridge highpoint; the way becomes obvious. Takes about 40 minutes of delightful hiking along L shapped ridge, with great views in all directions. This is worthy destination on its own; being a hot day with little breeze, and since I already expanded considerable energy on that wretched boulder thing I considered taking a snooze, till tomorrow maybe. I don't consider myself a peakbagger anymore anyways -- just a pile of rocks on the summit, right? But the call of summit cairn was too strong; soon enough I was at low saddle and beginning of scramble part. Pics from this section: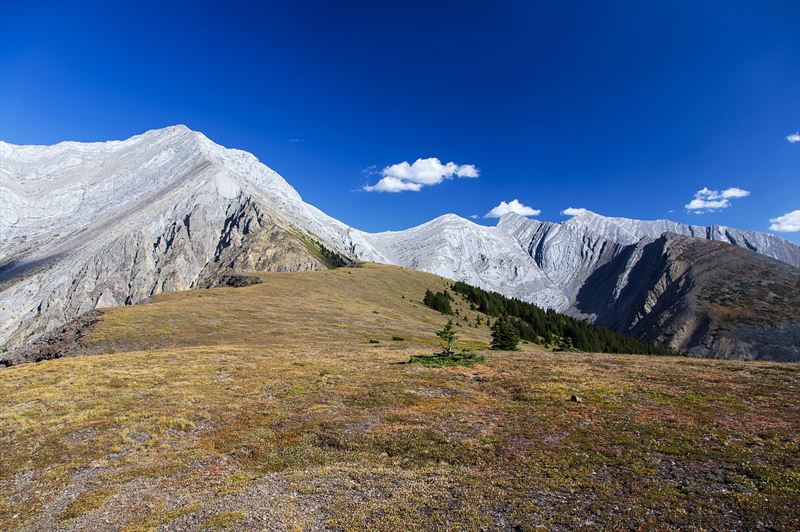 1, 2- Old Baldy Ridge
3- Little memorial plaque near the higpoint
4- Zoom on Nakiska
5- View from the col back to Old Baldy Ridge
6- View from the col north; this valley could probably be used for exit too but way too long
Now for the scramble: It takes about an hour. Initial bit on grass, then fairly loose rubble. Sheer rock wall in lower half is quite impressive; route stays just right of it. Overview:
Andrew rates it easy/moderate, but after having done enough peaks from all 3 western Canada scrambles books I am inclined to put it in moderate range. Plenty of loose rubble, and there is one step in upper third that is probably low class 3 (little cairn on slab above indicates easiest spot). I know experienced folks will shrug this off, but it is what it is -- and novice scramblers, lured by easy rating might find it unnerving. Summit is wide for comfortable rest, but paper inside register is completely soaked and whatever was written is now gone. Spent about 15 minutes before starting down. Few more summit shots: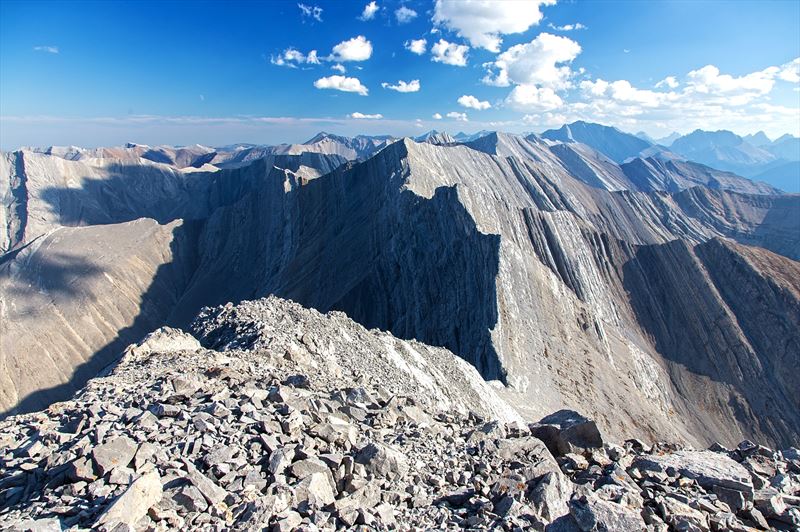 1- Ridge south leading to McDougall. Hm, I think I'll leave this one to Vern and Steven [

]
2- Views east towards foothills. Lots of smog in the air
Took about 3 hours for descent. Final stats:
Distance: ~20km
Elevation (GPS): ~1300m
Time: 8 hrs
Off the Beaten Path
Join Date: Aug 2004
Location: , , Canada.
Interest: the Lord Jesus, scrambling, Lego
Posts: 782

---
Quote:
quote:Ridge south leading to McDougall. Hm, I think I'll leave this one to Vern and Steven
ahem...some of us did this before these Rockies giants did...shall I get a list going?

Lovely TR, Zeljko. I've been enjoying your photos and descriptions. I really had a great day on this one.
Keep 'em coming!
Granticulus

---
Quote:
quote:
Originally posted by Granticulus
ahem...some of us did this before these Rockies giants did...shall I get a list going?

ah, but everyone knows you are original giant to which those that came after are compared against

Seriously now, that traverse (in either direction) seems couple of notches more difficult & would probably be above comfort level for many people
Headed for the Mountains
Join Date: Jan 2009
Location: , , .
Posts: 335

---
Ridge to McDougall looks worse than it actually is.
High on the Mountain Top
Join Date: Jan 2007
Location: Calgary, , .
Posts: 1,010

---
Nice one! Thanks for the beta. I'm keeping it in mind for the shoulder season (like everything else in Kananaskis Valley).
Posting Rules

You may not post new threads

You may not post replies

You may not post attachments

You may not edit your posts

---

HTML code is Off

---