Headed for the Mountains
Join Date: Mar 2004
Location: , Alberta, Canada.
Posts: 294

Ski Tour: Little Yoho Valley
---
Ski Tour: Little Yoho Valley - Stanley Mitchell Hut
March 31 - April 7, 2012
I was avoiding writing this trip report from last Spring as I was being selfish and wanted to keep this area all to myself but I have been told that it is nice to share!
Big mess of photos:
http://www.flickr.com/photos/2322373...7629810555573/
I was surprised and honored to be invited on this trip by Mike and Alisen as we had just met at a very festive Christmas Party and I had never skied with any of their usual crew. It was very brave of them to invite me, for all they knew they could be spending a week at a remote cabin with a backcountry axe murderer but it all worked out and everyone made it home in one piece.
The Crew List for the week: Mike, Alisen, TJ, Lloyd, Chic, Fay, Tomasz, Fay, Ferdl, Heather, Tiffin, Sandi, Gord, Dennis, Sioux, Yoshi, Barb, Lee + three porters.
The plan was to ski hard and eat well so dehydrated food was off the menu and the big pack was added to gear list. The group had hired porters to bring their food in but I couldn't get myself organized in time to make the drop-off deadline so I brought my pulk along to drag my 30+ Kg load up the trail as far as it would slide. My disorganization skills worked out well for the group as you will soon see.
The ski into Stanley Mitchell Hut is long at 23 km and feels even longer when hauling a heavy pack up the headwall which starts around KM 18. There is a breezy picnic shelter with a wood stove at the Takakkwa Falls Campground where you could stay overnight if needed but we took advantage of the long Spring day and made it in a single push. I had planned to use wax for most of the trip in as if follows an easy grade up the closed road for the first 13 km but the trail was icy and I had to use skins right from the parking lot.
I arrived at the hut mid-afternoon after seven hours of steady skiing. I was tired and sore from my heavy load but it was good to see that some of the group had come in the day before and had the cabin all warmed up for our arrival. The last of our group arrived just after sunset and it was then that we realized that no one had seen any of the porters. The porters who had everybody else's food including the big lasagna feast that had been planned for the first nights dinner. It was now getting late and everyone was hungry so I offered to cook up my coconut-chicken curry which had been scheduled for later in the week and was still a big frozen lump in my pack. There were no objections so I headed for the kitchen while others headed out into the dark in search of the porters and the rest of the food.
The last of the porters arrived just before midnight. They had been delayed by a highway closure and one had come in on a split-board which would have been quite miserable experience on the long trail. We rationed the curry and rice and managed to feed the whole crew of 19.
I slept well!
A few photos of our accommodations for the week:
The first day up in the Little Yoho Valley was pretty mellow. We fixed feet, collected water and chopped wood, did a few short ski trips to check out the area and dug some snow pits to check the snow stability.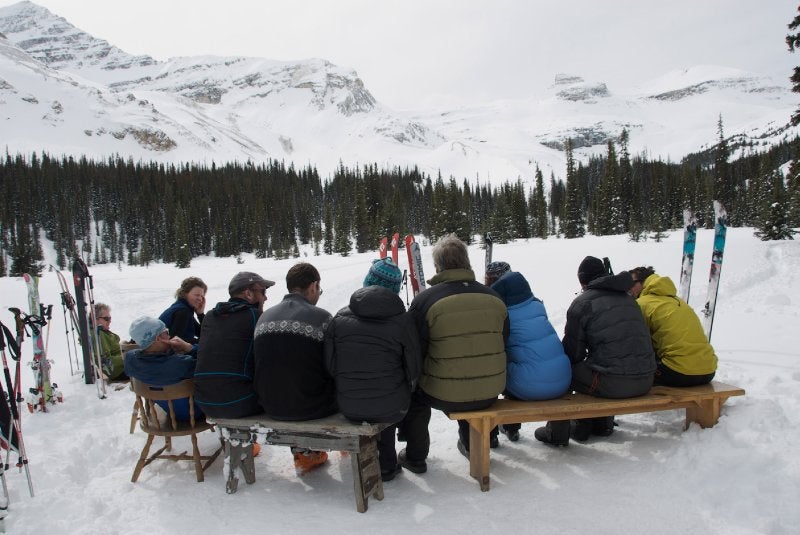 We settled into a beautiful routine for the rest of the week consisting of: eating, fetching water, skiing, eating, skiing, chopping wood, eating, skiing, relaxing, hut chores, fix furniture, drinking, chatting, skiing. Life was good! A few of the crew headed home mid week and others joined us when they could.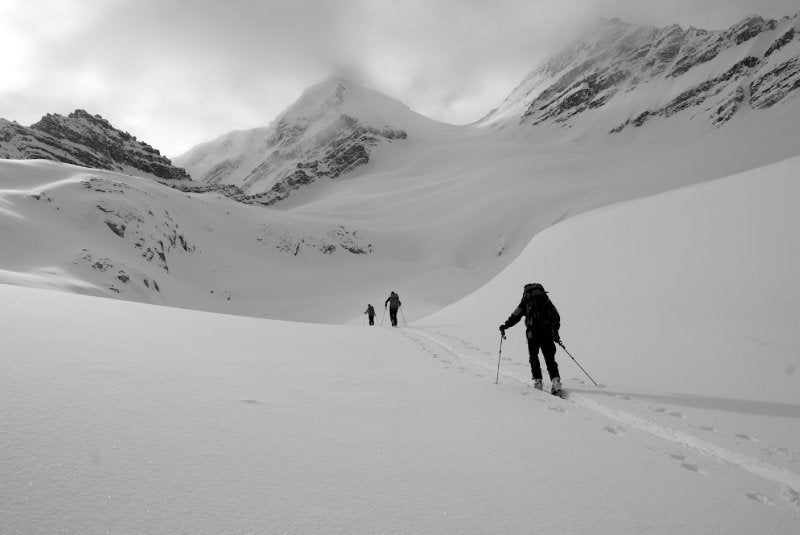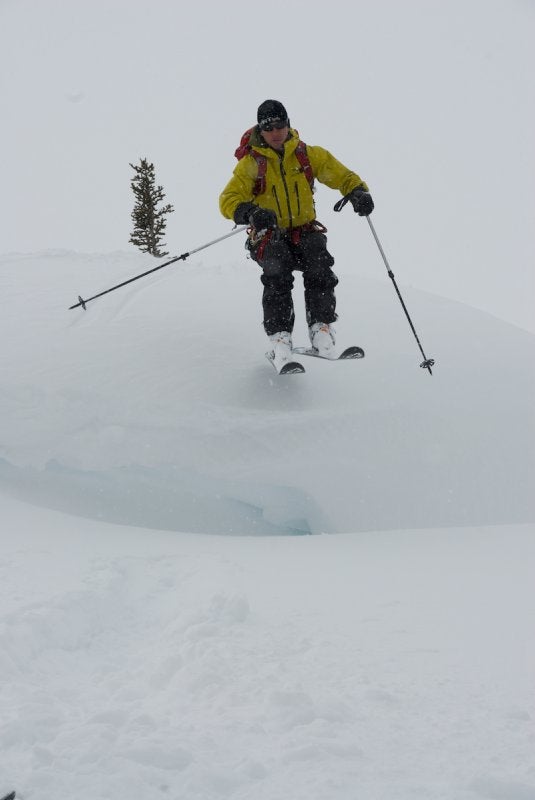 We found great skiing on the President Glacier and along the Telemark Slopes back down the trail towards the headwall. The weather was overcast but warm for most of the week. The one afternoon when the visibility was too poor to ski some of the crew cleared the heavy Spring snow load off the roof of the hut which was quite an entertaining operation.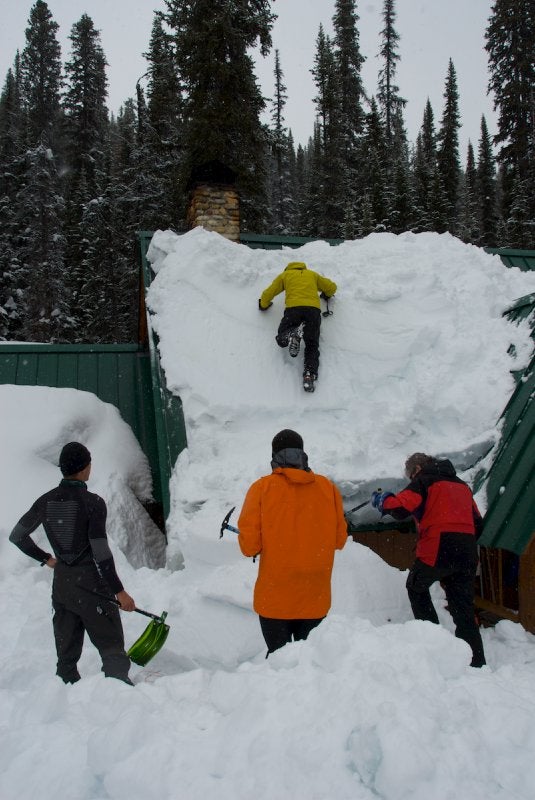 It was sad to see people have to leave mid week and it soon came time to head back to work. We still had a fair bit of food left so TJ and Fay decided to stay a couple of extra days to bag some peaks, I wish I could have stayed. With a much lighter pack the trip out was quick and uneventful. Arriving back at the cars we found that some spectacularly nice people had left some fine beer for us. THANK YOU!
It was a fantastic trip with a great group of people and now it looks like we are heading into another good ski season!
Headed for the Mountains
Join Date: Dec 2009
Location: rockies, alberta, Canada.
Posts: 260

---
wow Steve! what great photos....and very timely as in a couple of weeks I get to go to Bow Hut with the crew once again. Thanks!
Summit Master
Join Date: Jul 2003
Location: PNW
Posts: 8,494

---
waiting for the porters must have been an exercise in stories and doubt? [:0]
Super Moderator

Join Date: Mar 2005
Location: Calgary, Alberta, Andorra.
Interest: hiking, backpacking, scrambling, climbing
Posts: 4,439

---
Nice looking snow!
I wouldn't worry about giving away the 'secret' of Little Yoho and the Stanley Mitchell. It's good to see your trip, but it's not exactly a hidden unknown location...

Headed for the Mountains
Join Date: Jul 2011
Location: Not too far from Edmonton, Alberta, Canada.
Posts: 230

---
Great TR, Steve; been waiting to see this one since you mentioned it on the Assiniboine trip

High on the Mountain Top
Join Date: Jan 2007
Location: Calgary, , .
Posts: 1,010

---
As Rachel mentioned, no reason to worry about disclosure of the "secret" as it's been a fairly popular winter destination for a few decades. Would love to go there again but every time I cross that big avalanche slope near the end of the road it scares me a lot.
Super Moderator


Join Date: Apr 2005
Location: Abbotsford, B.C., Canada.
Interest: Hiking, Snowshoeing, and Photography. Enjoying the outdoors fresh air and fitness experience.
Posts: 17,919

---
Why keep it to yourself; seems like it is a very desirable spot, with plenty of people as I can see in your shots.

Beautiful photos, and indeed looks like a marvelous area.

K
Posting Rules

You may not post new threads

You may not post replies

You may not post attachments

You may not edit your posts

---

HTML code is Off

---