Perkins Peak Ridge Ramble (Chilcotin) 11-20-14
---
Perkins Peak is about 36km south-west of Tatla Lake off Bella Coola Highway 20. It is in the northern part of the Pantheon Range and is accessed by old mining roads that climb high above treeline.
I drove up the night before and found a place to park near a lake at 7200ft. Through a network of radio repeaters I was able to speak to someone in Williams Lake and even Oliver.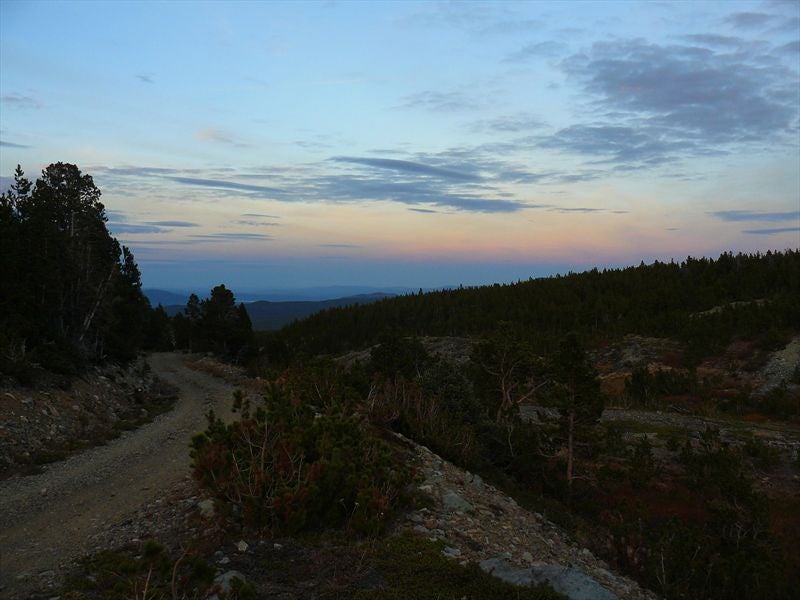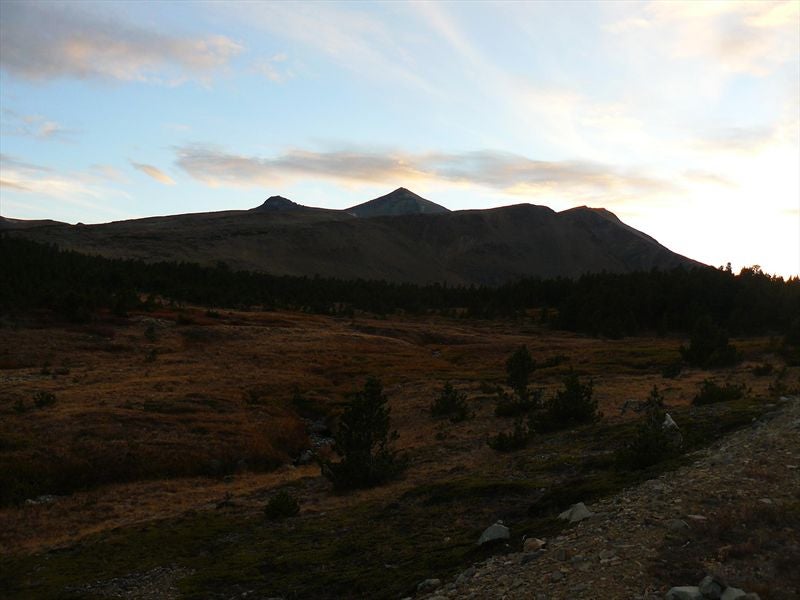 I brought wood and had a fire. The wind howled and the night was a bit overcast, but by morning the forecasted clear skies dawned.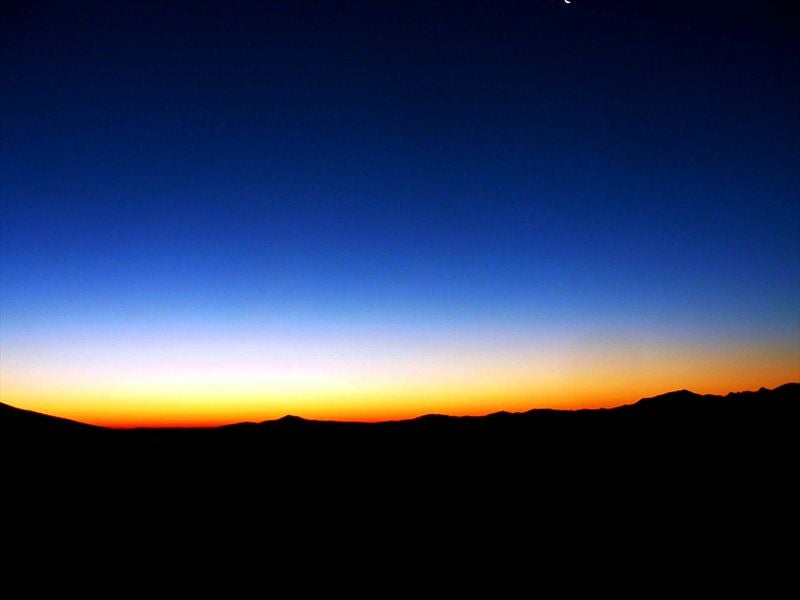 I start by walking up the old mining track to gain the northeast ridge. This is not the most direct way up the peak, but I was curious about the state of the road. Once on the ridge views start opening up nicely.
- You pass Miner Lake (on the right) on the way up.
- Monarch Mtn in the rear? Maybe someone can clarify....
- The route to the top is clear. Lots of talus...
- Camped by the lake.
- final push to the top.
When I opened the summit register I saw a familar name from just a couple days before. (sorry about the poor weather Benoit...)
On a sunny day the views from atop Perkins, at over 9300ft, are pretty outstaning. To the northeast one sees the vast expanse of interior plateau, and to the south is the Waddington Range. Peaks in the Nuit and Pantheon Ranges also stand out.
- The Wadd Range behind Hellraving Peak (I think... not actually 100% sure). Perkins SW2 and the ridge I'll be walking in the foreground.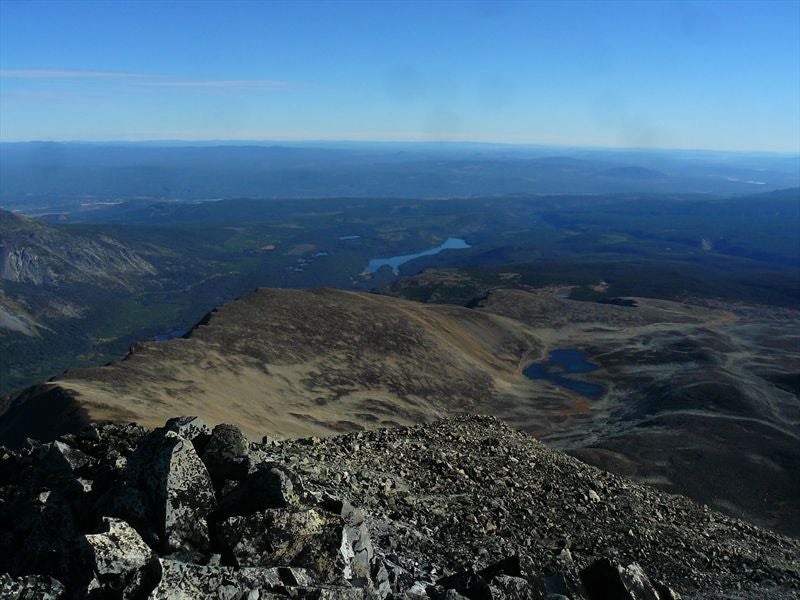 Just being on Perkins with these views is a fine outing. However, I wanted to make a day of things and take in some other perspectives. I walked/scrambled the ridge system counter-clockwise before dropping into the valley south of Perkins, which has an old mine track in it. From there I could walk the road a ways before b-lining back to my vehicle.
- Where I'm headed. Perkins SW2 mid-left.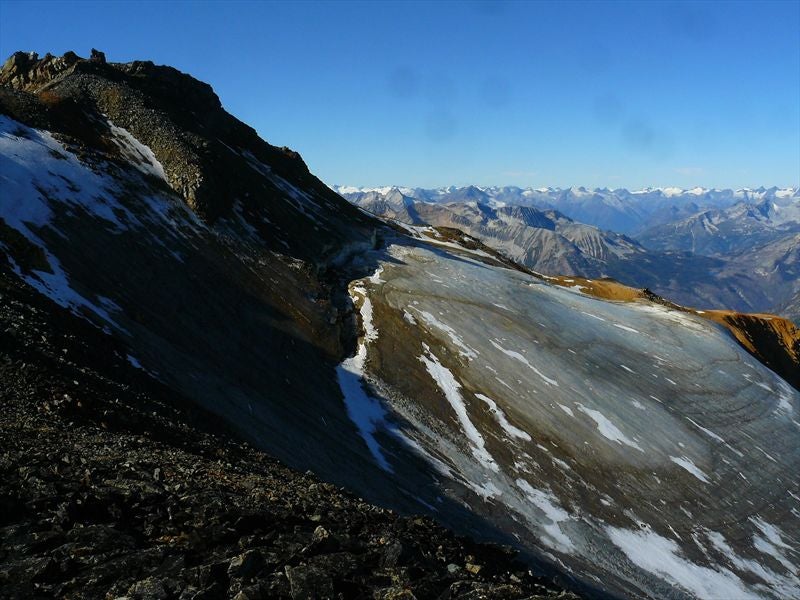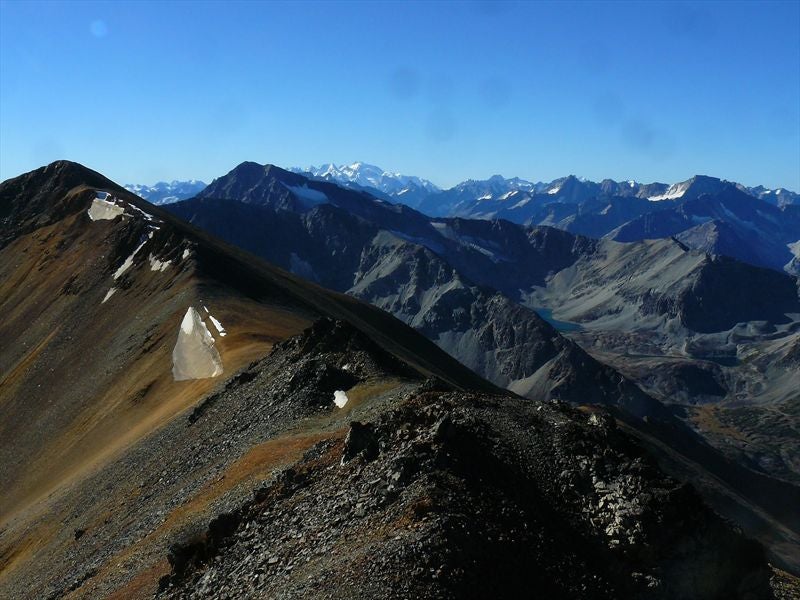 After some up-n-down and a bit of moderate scrambling I am on Perkins SW2 (9175ft).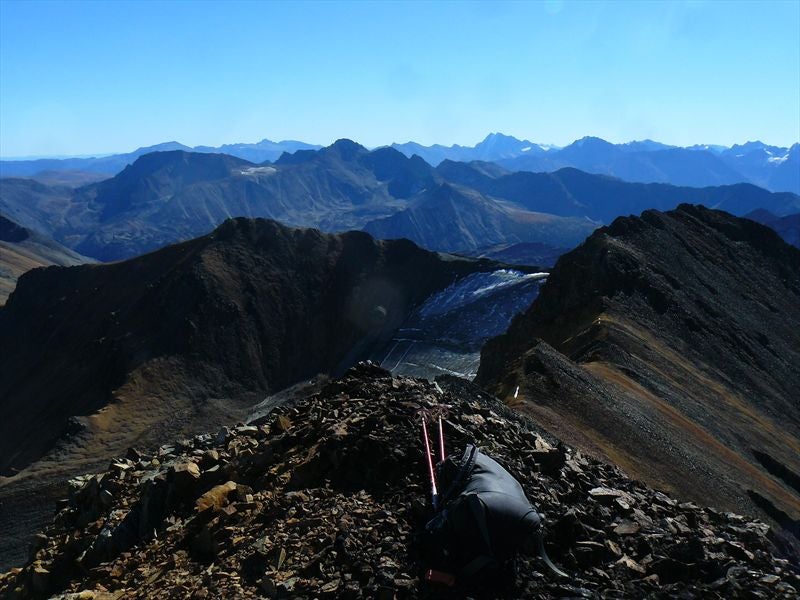 - Looking back at Perkins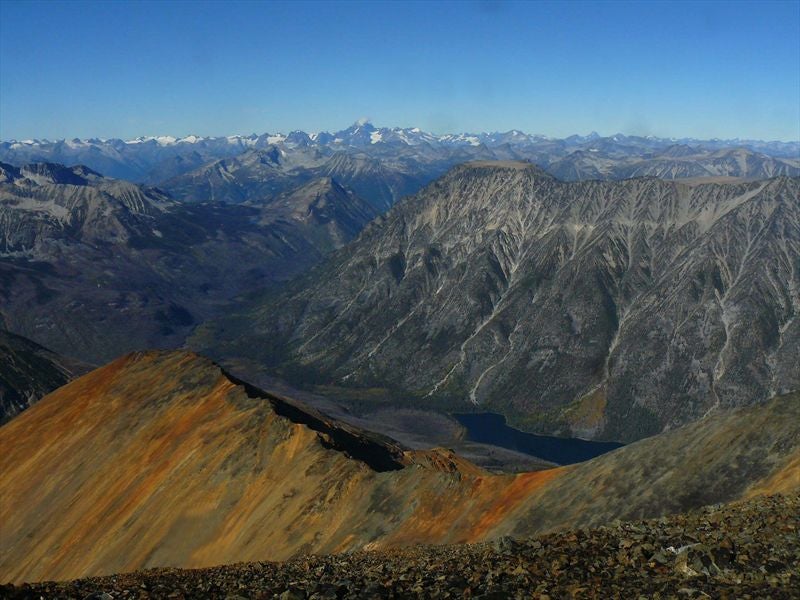 - Monarch Mtn? and Colwell Lake below.
- I am following the ridge on the right. Not sure what mineral accounts for the red/orange tinge to the rock. Views continue to impress...
- SW2 on left and connecting ridge to Perkins.
- still a long ways to go...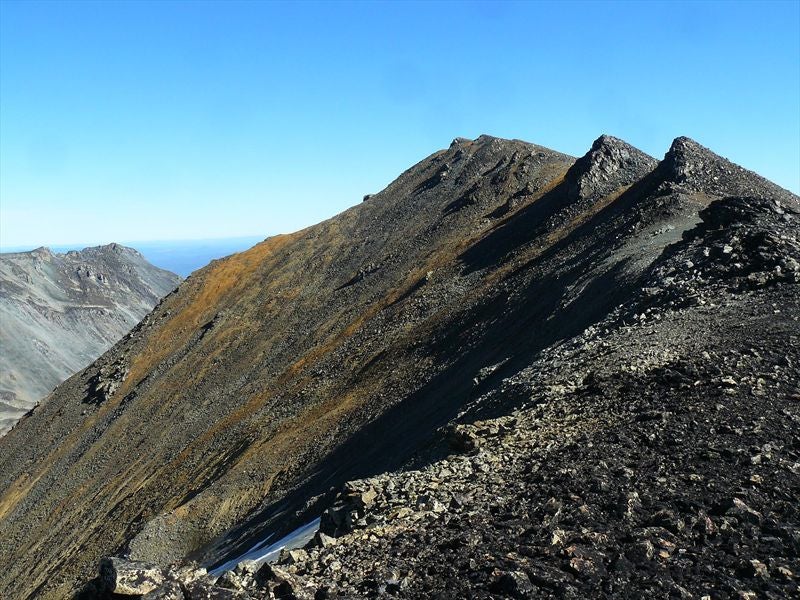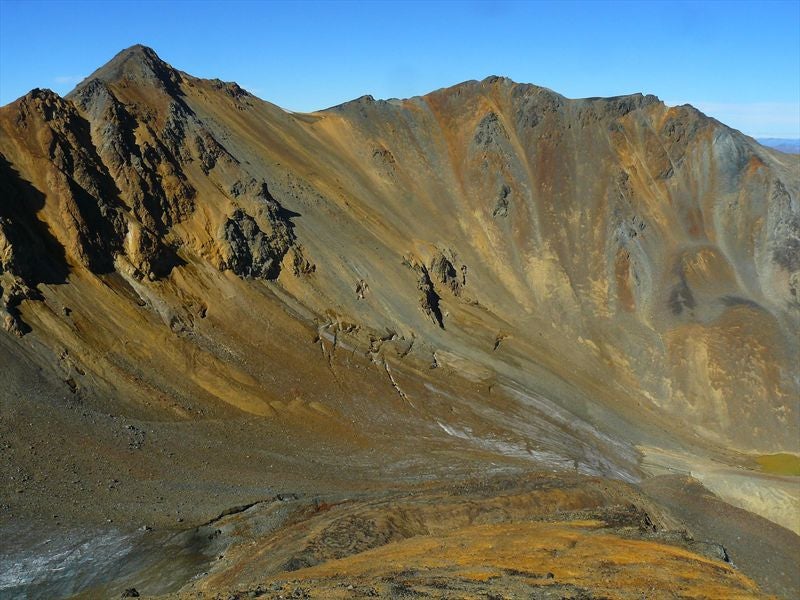 - SW2 on left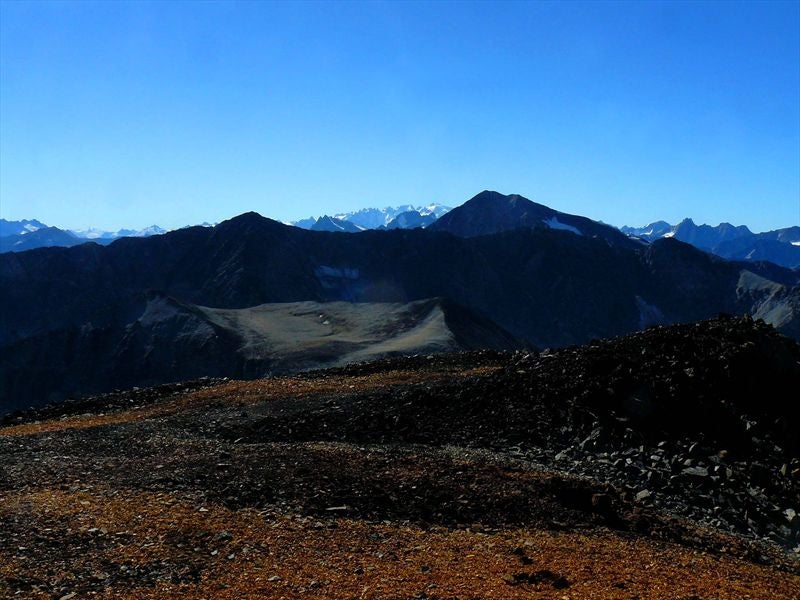 - getting closer to the end of the ridge...
To gain this final highpoint (8500ft) was a bit of a trudge. The srambling reminded me of the easy way up Mt Weart. I took my final views from on high before slopping down a long scree and talus slope to the valley floor.
- I'll be dropping down to the old mine track below.
- Perkins at right. Ridge ramble clearly visible.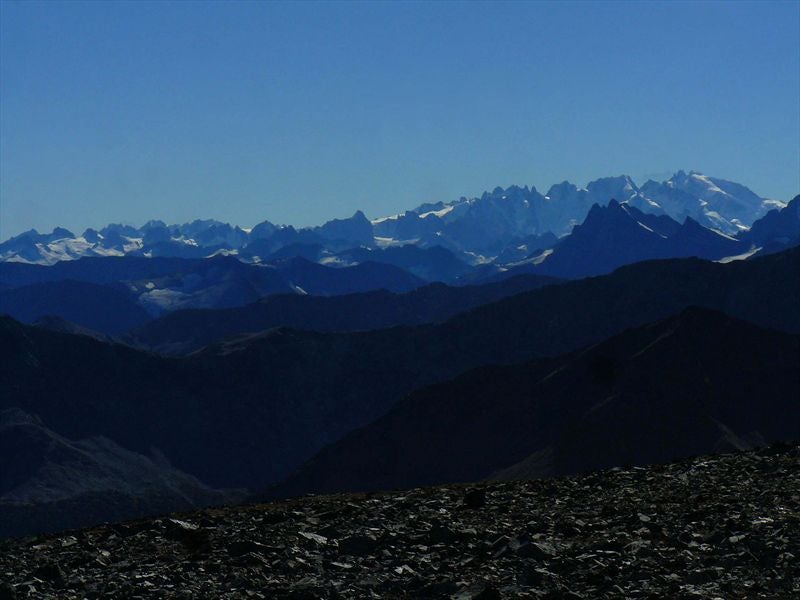 - scree ramp for descent
- still a ways down to road...
I was happy to be at the valley floor. I relaxed beside a creek and soaked in the sun...
As the crow flies, my car wasn't really that far away, except that Perkins' west ridge was in between. So I walked the mine track until it was suitable to b-line to my car over easy terrain, gaining almost 400 feet in the process.
I was fairly knackered by the time I arrived at the car around 430pm. I drank a variety of cold beverages and laid in the sun. I'm sure the star show would have been steller that night, but I packed up and drove off the mountain, stopping to chat with some hunters at Miner Lake along the way. This is definitely an area I'd return to for multi-day trips. Would also be neat to bring an ATV up and explore some of the old mining ruins.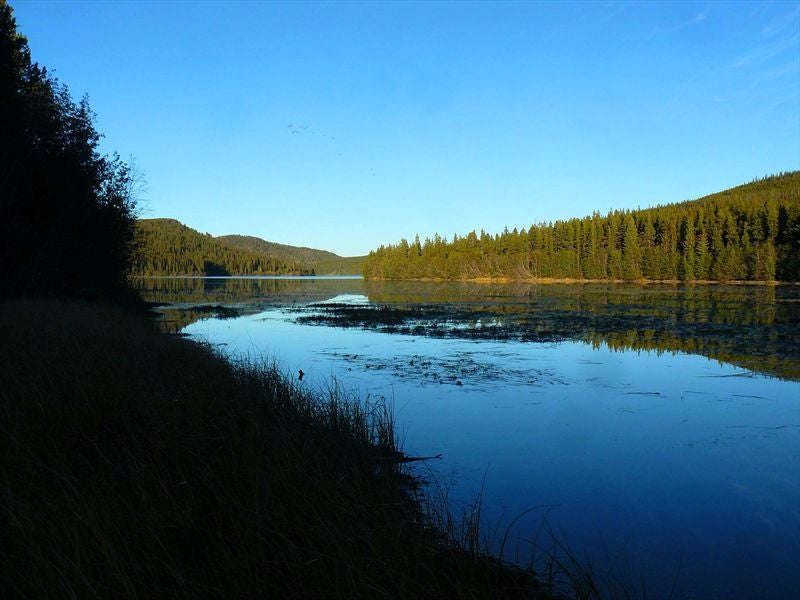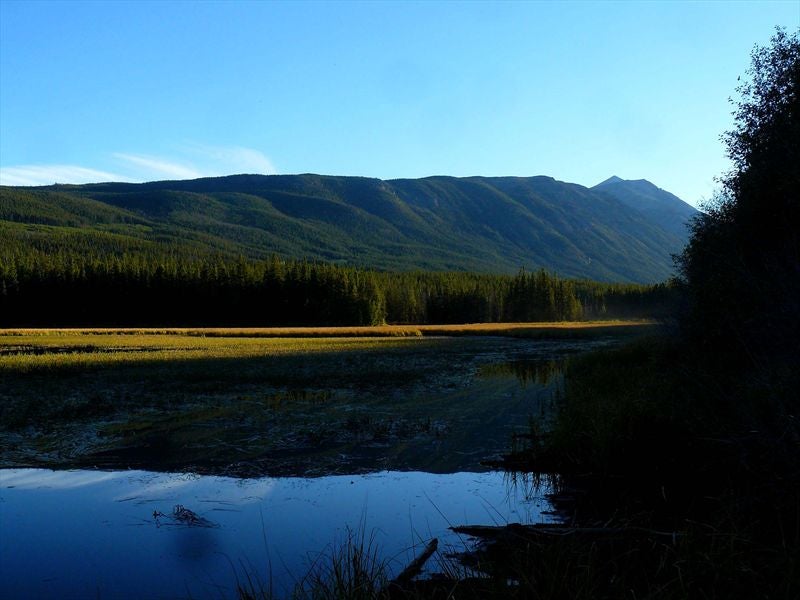 - Miner Lake
Random fall shots...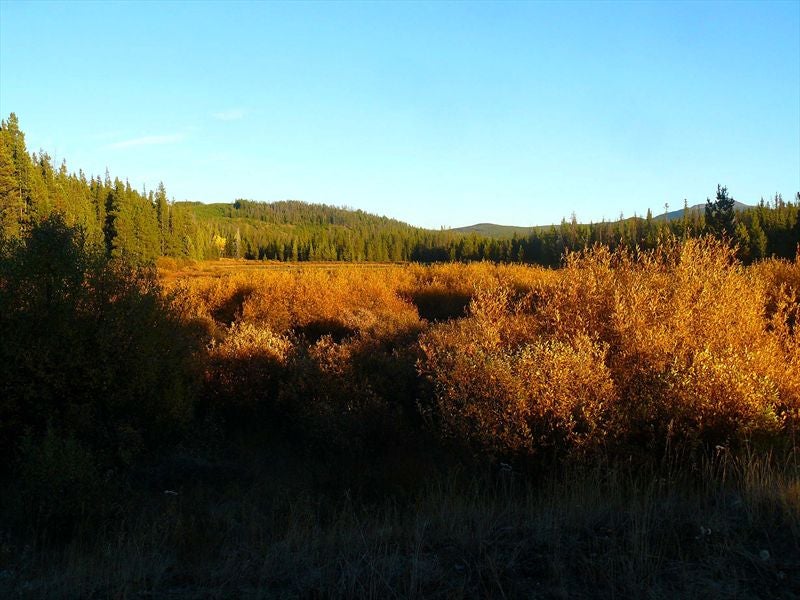 Once back on Hwy 20 I almost ran over a big black bear that dashed out diagonally in front me; I missed him by less than 5 feet. (sorry no pics...) That doesn't happen everyday...
- approx foot route.
Headed for the Mountains
Join Date: Oct 2009
Location: Chilliwack, BC, Canada.
Posts: 252

---
What a great looking area! Sure looks like a nice way to spend a day.
Scaling New Heights
Join Date: Apr 2013
Location: Langley, , .
Posts: 51

---
Nice photos of a beautiful place! One of our favorite Chilcotin hikes. The circuit you took looks especially scenic. I've never seen so little snow there. We've seen fresh snow there in all the summer months.
Off the Beaten Path
Join Date: Jul 2008
Location: Sunshine Coast, BC, Canada.
Posts: 876

---
Fantastic first report on Perkins!

Great photos. I will savor and enjoy the report later again. 7yrs ago, I drove up that mining road and went over zigzag in excitement with my brand new Tacoma with mudterrain tires on. Went quite high up way past the mining camp. Then started to walk- but weather was foggy and I never exercized so out of breath - it was too much to bear and turned around before got to the peak.

Thanks for this.
High on the Mountain Top

Join Date: Jul 2007
Location: Sunnyvale Trailer Park, , Canada.
Interest: Ball hockey, landscaping, tree collecting.
Posts: 1,311

---
We almost chose Sapeye Lake for our last camping trip, but my research on the area is limited to what you can find online. I've taken the left turn at Lee's corner maybe 7 times to head towards Nemiah Valley, but never carried on towards Tatla Lake. Having you up in that area hopefully continues more of these reports, it's an area that everyone seems to find inspirational.
Hittin' the Trails
Join Date: Sep 2009
Location: , , .
Posts: 48

---
Neat scenery. Very cool to be able to see Waddington and other giant peaks!

---
Nice lookin area, i love the way the landscape suddenly changes color.
Off the Beaten Path
Join Date: Jul 2008
Location: Sunshine Coast, BC, Canada.
Posts: 876

---
Some shots from 7yrs ago...
Upper mining area
Switch back I drove up and rugged road view- no water bars, just scary
Then got off the car and started scrambling- slow walking back then- towards Perkins Peak
Then Perkins Peak from the bowl which is the inner side of the ridge from mining camp
Not really related but probably least known large lake in Chilcotin called Charlotte Lake

---
Cool thanks for posting those. I'd like to go back and check out the old mine sites.
Headed for the Mountains
Join Date: Jul 2008
Location: , , .
Posts: 100

---
Nice photos CandySack! but every pic after the 5th has spots at the upper right & a black spot on the lower left. - camera dust?? [:0]
Posting Rules

You may not post new threads

You may not post replies

You may not post attachments

You may not edit your posts

---

HTML code is Off

---