Off the Beaten Path
Join Date: Jul 2008
Location: Sunshine Coast, BC, Canada.
Posts: 876

Guide to Copper Mound & Mt Mcleod -Tenquille lake
---
Copper mound(2157m) and Mt. McLeod(2158m) stand between direct southwest of beautiful turquoise Tenquille Lake and tower northeast above Pemberton Valley.
Both are quick easy access peaks from shared Fossil pass with Copper Mound needing some specific route finding. Today somehow I managed to get lost a bit before reaching alpine so with this September update other beginners can smoothly get to this very pleasant scrambling mountains. I felt these peaks are suitable for beginner hikers and scramblers. I thank SWBC Scramble book and website posting information of route finding info.
Green is the recommended trail. Orange is trail/route I got lost into and bushwacked back to correct routing. Blue is alpine scramble or low height grass walk.
Photos are focused on route finding & description as there are many quality peak photos introduced by other posters.
====
UPDATE
- The access road has one section sinking is starting and this can cause a road to be impassable in few years with a large flood.
- Access road past 17k turn off point is significantly improved from last year with bush trimmed off. I thank who did the work.
- The trail past tenquille lake / tenquille pass has a major blowdown of Alpine fir stands and it is difficult to get through without getting lost unless you are very familiar with the way. Yet the other route that I should have taken to get to Copper Mound-Mcleod was blocked with logs crossed over.
=====
TIME
-Parking/trailhead to Copper Mound 1h46mins including about 15mins getting lost, and 5mins photo stops.
-Copper Mound to Mt. Mcleod is 46mins including 5mins photo stops.
-Mt. Mcleod to parking/trailhead 1h28mins including 3mins photo stops.
-Total time took Car-to-car was 4h25mins adding above to peak stop of Copper 10mins, Mcleod 15mins
-If the correct route is taken, fast runner can do Parking to Copper 1h10. Copper-Mcleod 35mins, Mcleod-Parking 1h15.
Access trail is generally a fast trail except muddy portion. At ascent, scrambling portion of dry rocks(not on creek bed)is mostly runnable. Grass part is not runnable as you cannot see the ground. At descent, most of Mt Mcleod scrambling is runnable, about 1/3 of Copper Mound and down to the trail from Fossil pass is runnable. Today was not my speed day though. Scrambling to Copper took around 15-20% walking of runnable portion.
=====
MAIN CONTENT
So my 3rd day of alpine training I went to Copper Mound and Mt. McLeod. Finally I got to ascend some mtns.
For detailed trailhead access info go to my Tenquille-Goat Mtn report.
http://www.clubtread.com/sforum/topi...TOPIC_ID=41082
TRAILHEAD TO COPPER MOUND
Recommended route/trail.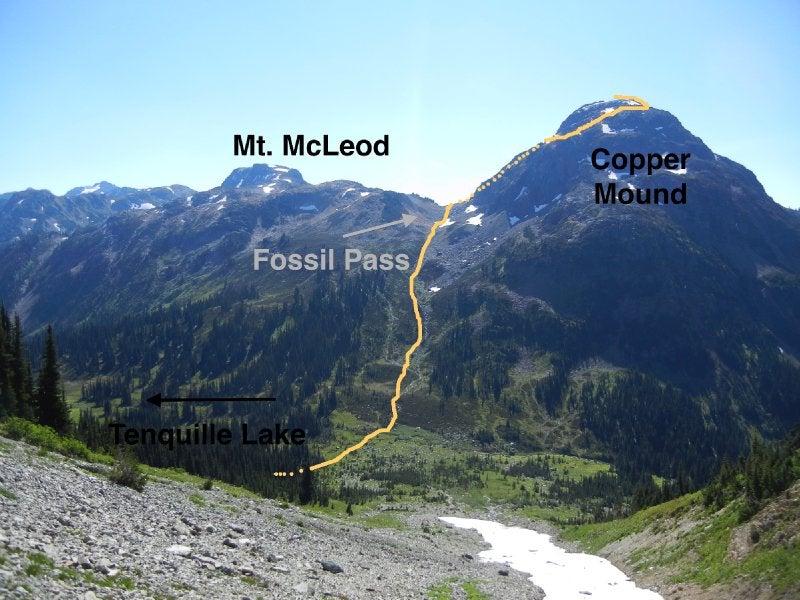 So from Parking to the lake and past Tenquille Cabin, I went straight without crossing the creek towards Tenquille pass. Then after the pass, I got to this fork with left trail blocked so I took right fork.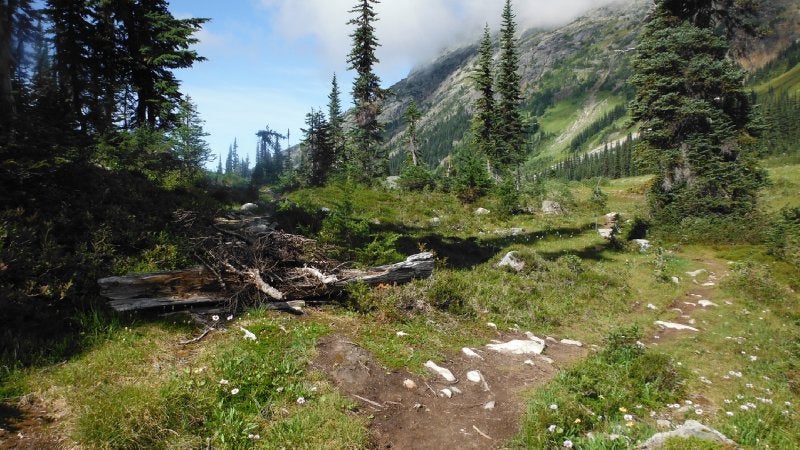 Actually this unblocked path leads to a major blowdown section and I completely lost the trail. There were numerous foot trace going into multiple directions around here(No photos as they didn't turn up at all for some reason). I was also expecting to find a trail to be branching out towards Copper McLeod side(Fossil pass) on my left.
But no trail was seen and I soon realized I went way too far and turned around. Then I thought perhaps I should just do "bushwack" here towards Fossile Pass. It is merely 30cm soft grass and that is a good enough of a bushwack to me at the moment.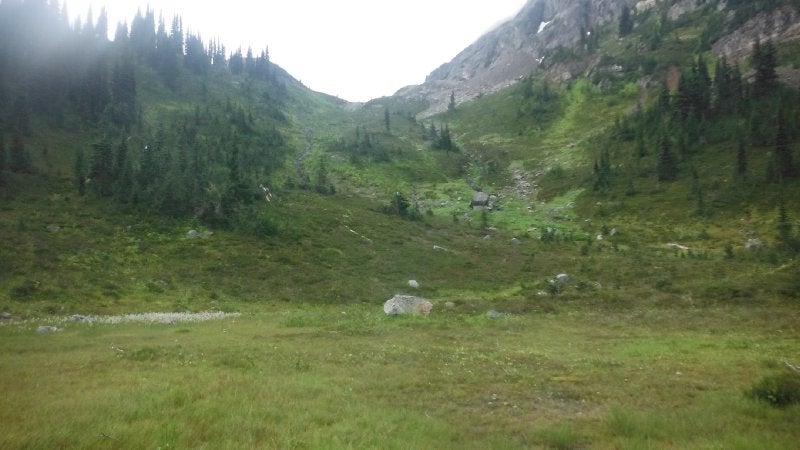 Then I met this trail which I initially saw blocked at the fork shortly past Tenquille cabin. I went back towards Tenquille lake on this trail for a few hundred meters then soon went right up toward Copper-Mcleod(Fossile Pass). This blocked trail should have been actually taken in the first place at the fork earlier mentioned.
Then I found it easier to go up along the tiny creeks with exposed and often dry rocks to step on. Sometimes on grass.
On my way down I realized South, or Mcleod side of creek bed would have been easier to run up. There were some foot trace also.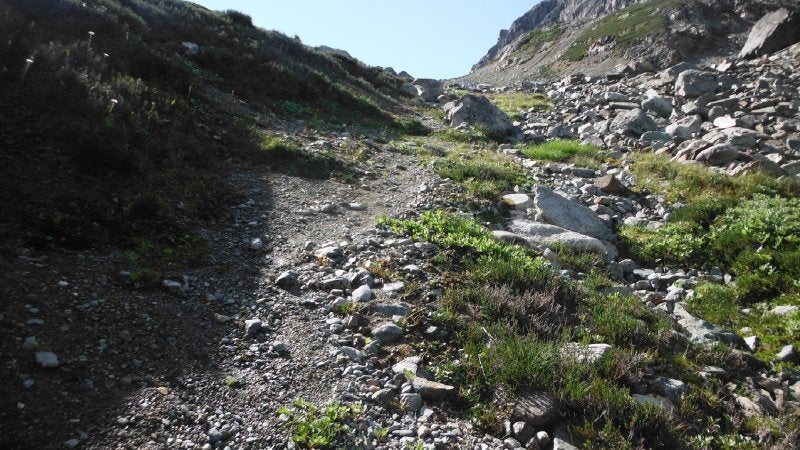 Also during descent I found there are some intermittent trails also on same south side of main creek bed. This makes it much faster to go down as long as you are on the trail.
Keep going towards Fossil Pass
From the pass, it would be rather difficult to reach Copper Mound peak without the route strategy. Here is the route described in SWBC scrambling book which I recommend for beginners.
When you hit the pass. You veer to the right slightly to get behind to Copper Mound to find this red gully.
At this red gully, you would also find grey small rocks/shale which are very sticky. Easy to step on.
As you go up the red gully, veer to the right above where the trees are to find the bench.
The view of the bench. Just keep going on this traversing the mountain, viewing the peak on the left.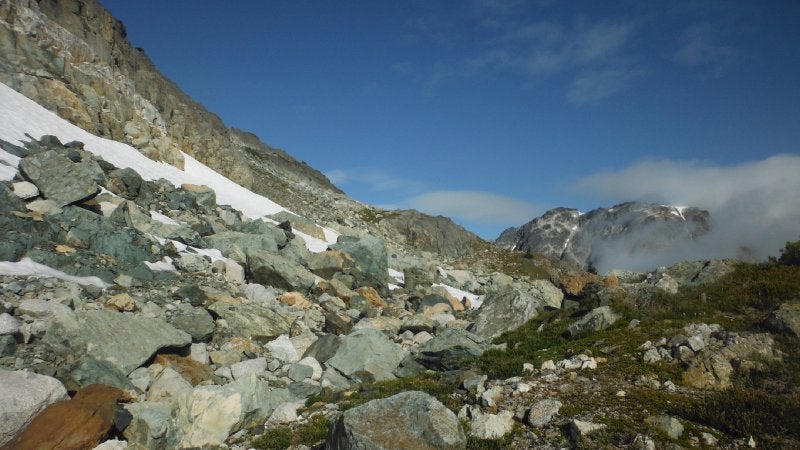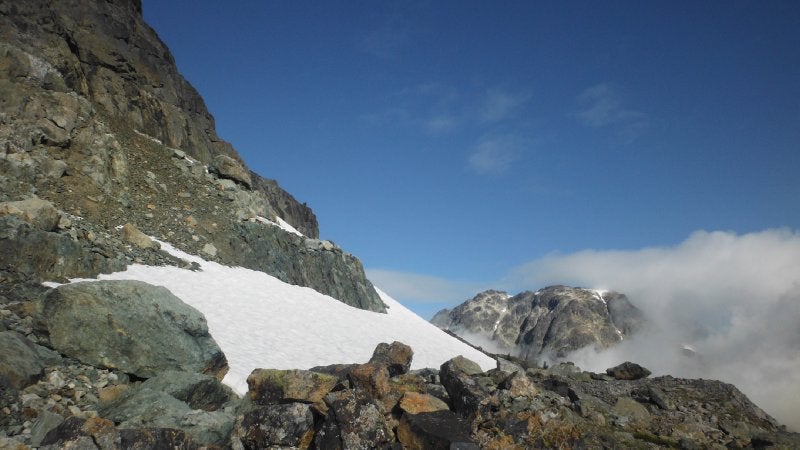 If you follow this, then the bench becomes a bit steeper and start going up instead of traversing.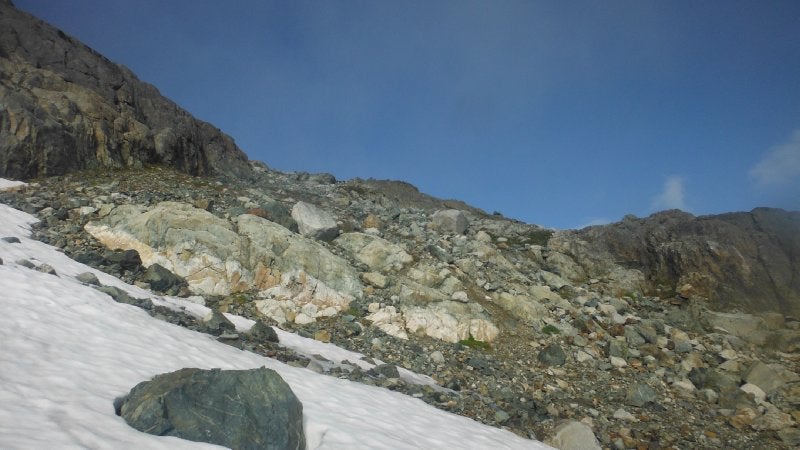 Then you see a small snow field going towards the peak.
Go behind this snowfield and swing sharply left to go up straight for the kill of the peak!
Surprisingly right before the peak like 20m, this nice heather field starts.
Copper Mound Peak!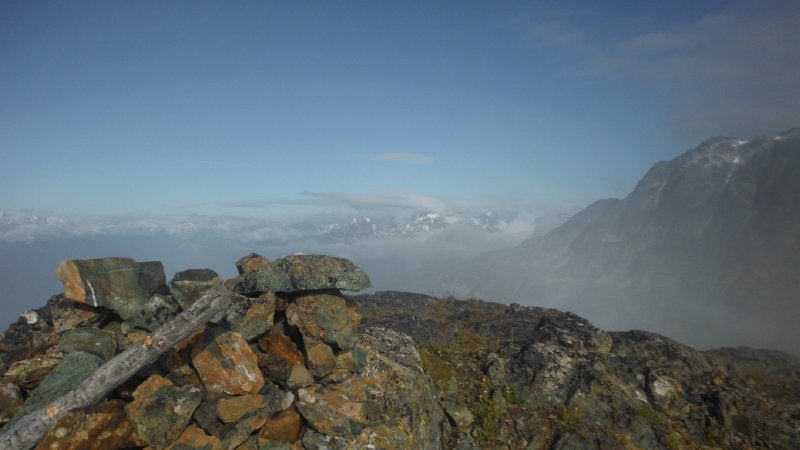 View from Copper Mound. Left two are of Pemberton Valley, then Goat Peak centre right. Far right is Mt. Mcleod direction.
Tenquille Lake can be seen during descent.
COPPER MOUND TO MT MCLEOD
Now get down to Fossile Pass and go up towards Mt Mcleod. This is the most simple no brainer scramble I have ever done. There is a small bump you can pass without going up on the West flank on ascent(in blue ascent line), and later figured out I could have gone on East flank on descent(see in pink dot)
The process of ascent from left to right as below.
Mt. Mcleod peak!
Such a large flat peak. Looking at the peak stick from West(left shot), and the look from East.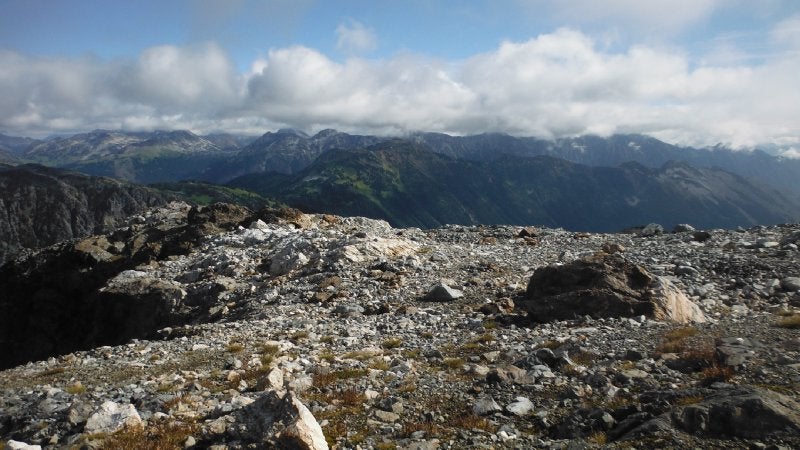 View of Pemberton Valley. I like it better from Mt. Mcleod.
Down where I came from. Tenquille Lake view. The Cliff.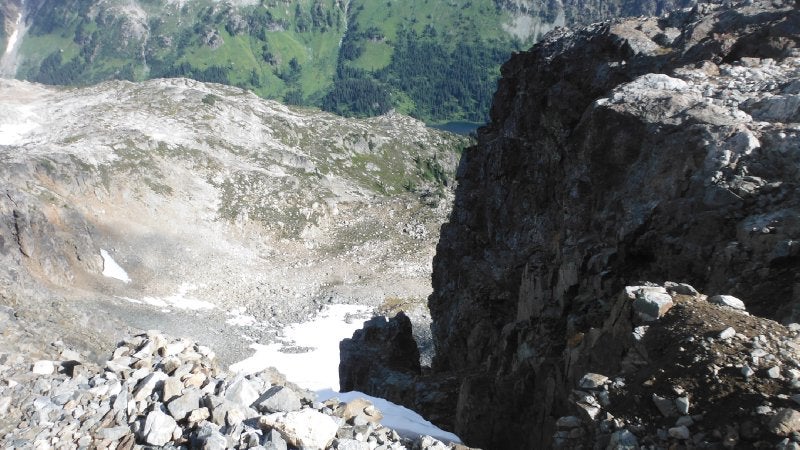 I pondered if I go down this valley, it would be quicker arriving back to trailhead...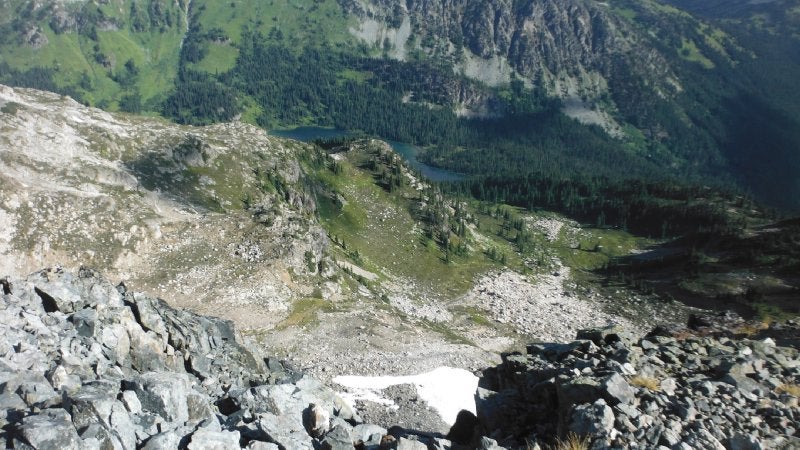 Other views.
To summarize these are great beginner's ascent peaks, especially Mt. Mcleod. The valley view is grand. Peaks were partically covered by cloud today but peak view should be fantastic on perfectly sunny day.
Posting Rules

You may not post new threads

You may not post replies

You may not post attachments

You may not edit your posts

---

HTML code is Off

---