Headed for the Mountains
Join Date: Aug 2010
Location: Victoria, BC, Canada.
Posts: 121

TR: Standup Paddleboard (SUP) to Discovery Island
---
My wife and I have wanted to try tripping on stand up paddleboards since we got them. Since we live in Victoria, the Chatham Islands and Discovery Island area seemed like a great place to try touring on SUP. They are basically giant surfboards so you can carry a tied-down drybag on the deck using some basic rigging.
Our Canada Day long weekend started out on a Friday afternoon at Ten Mile Point near Cadboro Bay. This is Baynes Channel, which is the shortest crossing to Chatham. We figured this would be the easiest open ocean crossing on paddleboards and would allow for a tour of the Chatham Islands en route to Discovery. We went at slack tide but even still, there was about a kilometer of pretty rough water, along with a rip current along the shore. The ocean is forced through a pretty narrow channel here so I'm not sure there ever is real slack water here.
The put in.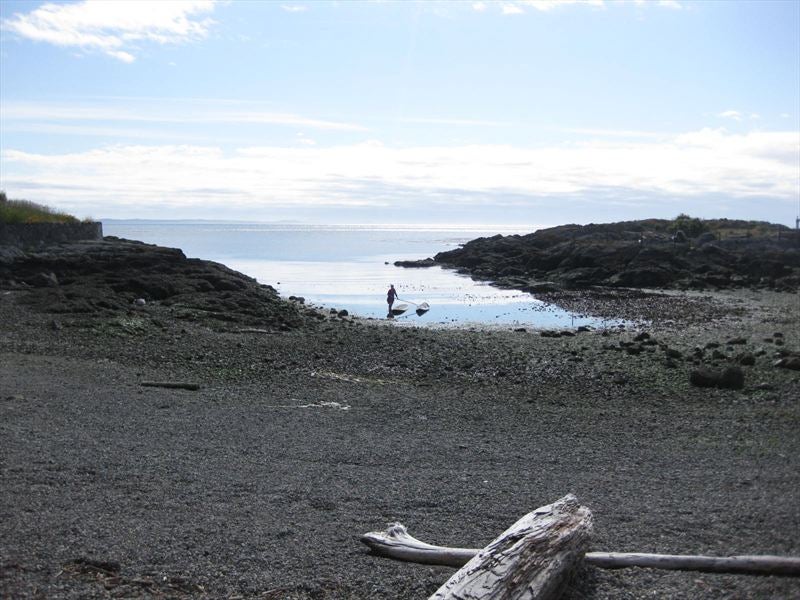 The first crossing, about a kilometer and a half.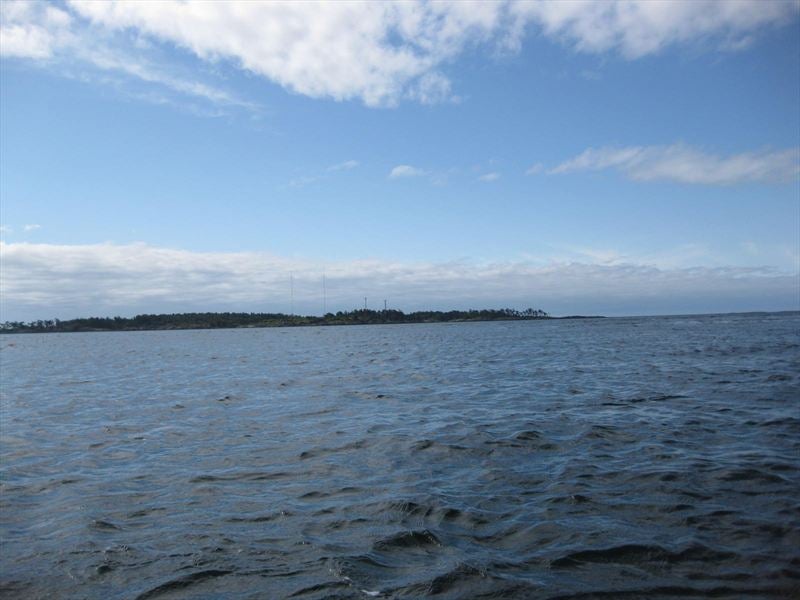 Once across, we paddled through the Chatham Islands, which were simply beautiful. Great visibility in the water and loads of things to see under the water. Fantastic bird life.
After paddling through the Chatham Islands, we crossed the channel -- known as "The Gap" -- over to Discovery Island, and hugged the west shore which eventually led us to the park area.
Lots of parking spaces here.
The camping area is a large open grassy area. We had the whole place to ourselves the first night. There is a sign for campers with info and a fee drop box - $5 a person a night. We also saw this sign, reporting there being a mystery dog on the island, possibly abandoned and feral. I was intrigued and hoped to see this beast, even though I thought it pretty unlikely since Discovery is a pretty decent-sized island.
After dinner, we went for a nice evening paddle around the eastern side of the island, where we discovered an abandoned lighthouse. How cool is that? Note to self – hike to the lighthouse when back.
It's a short hike east to the lighthouse from the camping area. There, you can explore a lighthouse tower, now automated, along with an abandoned house, office building, workshop, and other various foundations and remnants.
Remember the poster about the mysterious dog? Here is where we had our first encounter. I wouldn't have noticed anything had it not been for my wife, whose fear of dogs has given her superhuman abilities to sense anything canine-related. "Honey, there's the dog!" I look up and grab the camera.
Okay. That's a pretty big dog. But about 50 yards would be about as close as we'd get. It watched us for a few seconds, even sat down for a moment, then slinked off.
We hiked back to camp, ate diner, and eventually called it a night. Early the next day we awoke to the sound of howling, about 100 meters away, on the rock bluffs. Hmmm, I thought, that poor lonely dog. *click* ... That's no dog!
The next day, we hiked around the island, which plaques say it was once owned by Captain G. Beaumont. We later heard from the park ranger that it was used for sheep farming. There are still signs of previous habitation now, like clearings and roads, rock walls, and orchards. If you hike the path west of the campsite about a kilometer, you can reach a point where you can see Victoria.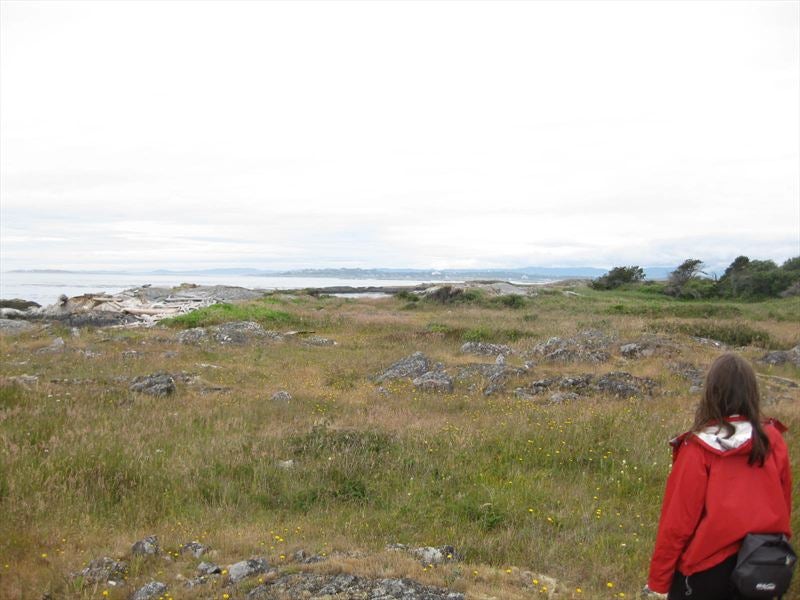 Along the way, we encountered some interesting dung. Big dung. And full of hair – what of, we're not quite sure of since there are no deer on the island.
We walked further along the trail. All of a sudden my wife says, "There he is." I look up and see what now we're sure is a wolf. What luck! We snapped a couple more pics before he darted off.
Second night. We met some kayakers who were staying on their way to Darcy Island. That night we got woken up a few times by the snorting sounds of river otters. Lord knows why they make that awful sound.
July 1 is Canada Day, wherever you may be.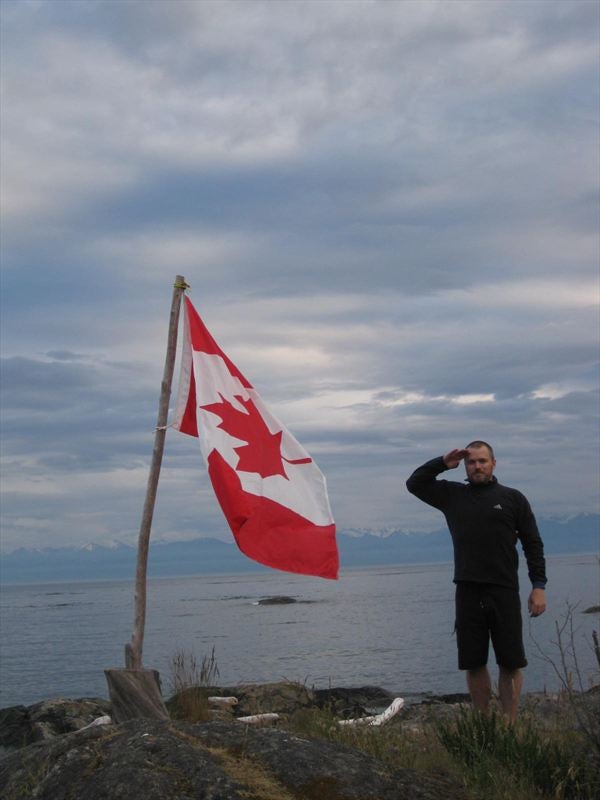 The trip back. We left first thing the next day as to make slack tide. Unfortunately, what was a beautiful morning included some pretty strong westerly winds and another choppy crossing back to Ten Mile Point.
The route: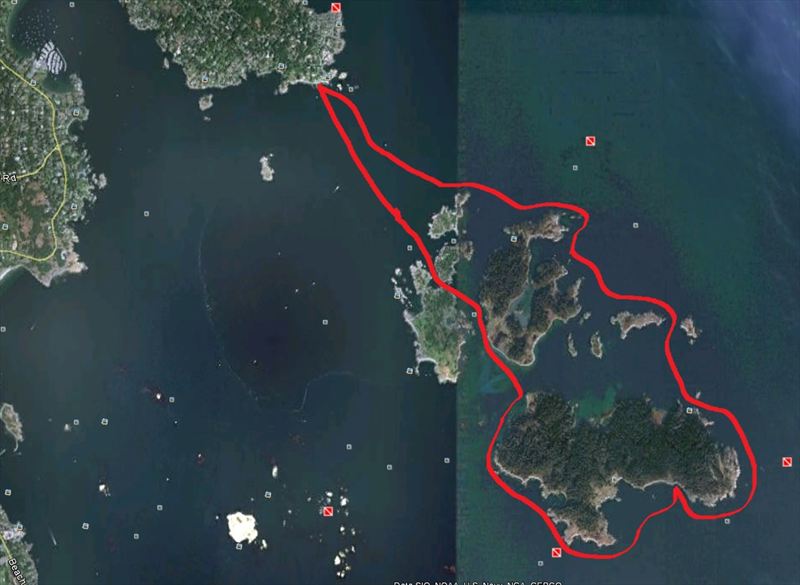 ---
Great wolf sighting!

-Ryan

High on the Mountain Top
Join Date: Sep 2008
Location: Comox, BC
Interest: Solo hiking & backpacking, photography, Sports Nutrition, Nature observation, Rockhunting
Posts: 1,320

---
Nice report. A rather unusual way of traveling.
Headed for the Mountains
Join Date: May 2012
Location: the mountain parks, Alberta, Canada.
Posts: 103

---
haha....funny that several people would mistake it for an "abandoned" husky. You should call the number and tell them it's a wolf and not an abandoned dog. Too cool.
Headed for the Mountains
Join Date: Aug 2010
Location: Victoria, BC, Canada.
Posts: 121

---
I think some people want to believe it's a dog. It also makes it easier to explain how he got there.

Fortunately, we ran into the park ranger when there and sent him the photos.
High on the Mountain Top
Join Date: Dec 2008
Location: Ask me next week, British Columbia, sometimes., Canada.
Interest: Hiking, soccer, hockey, running, photography, dogs, camping, environmental protection.
Posts: 1,897

---
Awesome. Looks like I will need to head over there in September.

---
Maybe the otters were snorting at the wolf?
Headed for the Mountains
Join Date: May 2010
Location: Maple Ridge, BC, Canada.
Posts: 393

---
what a creative way to tour! Always like to see some innovation in a trip report. Nice pictures too!

Shame about that abandoned... I'm gonna say chihuahua? Maybe dalmatian? We can at least agree that is definitely a scared and skinny puppy, right?
Headed for the Mountains
Join Date: Jan 2010
Location: Brentwood Bay, BC, .
Posts: 322

---
Freaken awesome!

I've paddled around the islands there in an outrigger but never made landfall. With a good wolf sighting I think I want to go check that out! He/she is probable eating the otters and raccoons (assuming that island has them)... maybe some sea life, birds/eggs, kayakers lunches?.

FYI you might want to place your paddles down the other way... if someone were to accidentally step on them the blade will snap off the shaft... the other way it's not as likely.

paddles up!
Headed for the Mountains
Join Date: Aug 2010
Location: Victoria, BC, Canada.
Posts: 121

---
I thought I'd add a note to this thread - in case anyone reads this TR and wants to go over to these islands themselves - be warned. This stretch of water can be very dangerous and should only be attempted by experienced paddlers at slack tide and with low wind.
Tragically, a person died in this very spot last night after their canoe capsized.
http://www.cbc.ca/news/canada/britis...t-missing.html
Posting Rules

You may not post new threads

You may not post replies

You may not post attachments

You may not edit your posts

---

HTML code is Off

---