Off the Beaten Path
Join Date: Mar 2007
Location: AB, Canada.
Posts: 941

Helen Lake & Cirque Peak - August 16, 2008
---
What a weekend to hit the Icefields Parkway! We met my parents at a campground on Highway 11 before leaving Saturday morning for the Helen Lake trailhead. My parents, though active, are not used to hiking, and my dad is waiting for surgery on his meniscus. From what I'd read, the trail to Helen Lake was not overly taxing.
A quick shot from the shores of Bow Lake:
It turned out to be a pleasant, short hike up to the lake. It started in open forest on well-worn trail. Early on, a few streams were crossed. Steady, moderate elevation gains took us through an old burn and then onto the shoulder of the mountain. Through the trees, we could peek back towards Bow Lake.
Once around the shoulder of the mountain, views up the valley towards Cirque Peak opened up. Wildflower season was in full bloom, and the color spectrum was amazing. The only negative was the braiding of the trail. Stay on the path, people!! [V] At one point a stream cuts through the meadow, making a wonderful place to stop. Helen Lake itself sits below a ridge with Cirque Peak as a backdrop. We stopped for a quick snack and I headed towards Cirque, hoping to reach the summit and be back down in about an hour and a half, before the other three got too bored by the lake.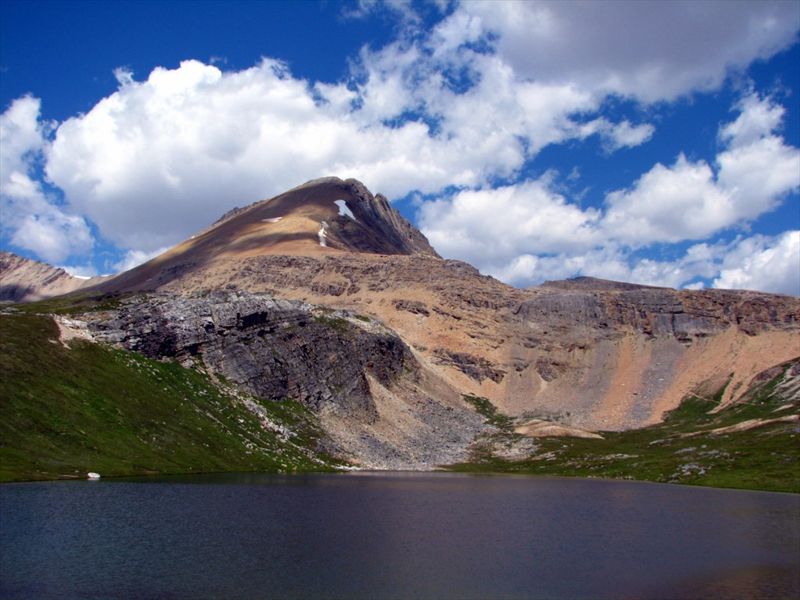 The climb starts past a tarn above the ridge. A short climb up the soft slope leads over a snowy ridge onto the south face of the mountain. From here, it is straight up, easy going. Even the final pull to the summit is simple, with a bit of loose scree before scrambling the final few meters. But what a view greets you after less than an hour from Helen Lake!
I started back, getting halfway down the mountain when I met my mom coming up with another group. It seemed she had changed her mind about climbing the mountain. She was determined to reach the top, so I turned around and went up again. She was quite proud of her accomplishment, and rightfully so!
In all, both an accessible and spectacular dayhike. The meadows themselves are worth seeing in the height of flower season, so don't let the crowds deter you.
Speaking of crowds, since we were in the area, we decided to visit some touristy lakes that we'd never seen because they are, well, touristy. I had a particularly tough time getting a good shot at Peyto Lake. Getting to the edge of the viewpoint was only half the challenge; people didn't seem to realize that a viewpoint is there for a reason, so a bunch were climbing down onto the rocks. I had a heck of a time trying to keep one girl's "sexy poses" out of my frame. Then the volume of cars at Lake Louise and Moraine Lake blew my mind. But on this warm sunny day we had a fun time nonetheless.
1)
2)
3)
4)
5)
6)
7)
1) Waterfowl Lake
2) Peyto Lake
3) Hector Lake
4) Herbert Lake
5) Lake Louise
6) Fairmont Lookout
7) Moraine Lake
Summit Master

Join Date: Jan 2004
Location: Mission, BC, Canada.
Interest: TO GET OUTSIDE! Hiking, backpacking, canoeing, bushwacking, scrambling
Posts: 4,933

---
Awesome [8D]! What a perfect hike to take your parents on

High on the Mountain Top
Join Date: Nov 2006
Location: Canmore, AB, Canada.
Interest: Is eating sushi a hobby?
Posts: 1,251

---
I was up on Cirque 3 weeks ago and it was completely snow free at the time... although our views were limited due to a thunderstorm which rolled in.

Good work on part of your mom! I can't imagine my mother even hiking to Helen lake let alone doing a scramble.


Headed for the Mountains
Join Date: Feb 2008
Location: Maple Ridge, BC, Canada.
Interest: backpacking -anything above treeline bike touring keeping my wife happy
Posts: 158

---
great pics

haven't been in there yet now I want to go
Super Moderator


Join Date: Apr 2005
Location: Abbotsford, B.C., Canada.
Interest: Hiking, Snowshoeing, and Photography. Enjoying the outdoors fresh air and fitness experience.
Posts: 16,835

---
Stunning and spectacular photos and report. That is god's country.

K
Headed for the Mountains
Join Date: Jul 2008
Location: Vancouver, British Columbia, Canada.
Posts: 191

---
i did Helen Lake/Cirque Peak with my girlfriend and my buddy the previous day ( August 15 ) and we had similar weather, albeit a bit warmer ( recorded temperature was 32 at Lake Louise that day ) but i suppose it isn't overly hot when you're at 3000m in the heat of the day

we reached the trailhead at about 11am, summitted at about 230/3pm, awesome day to do it

if you look closely at one of your photos ( the snow along the ridge ) you can even see where we butt-skied over the snow to get down below it. haha

nice one ah?

oh yeah, did you see any bears? there was tons of bear activity on that trail in the days and weeks prior to our hike, we didn't see any but many people in those couple of days apparently saw a couple of grizzlies
High on the Mountain Top
Join Date: Jun 2007
Location: , , .
Posts: 1,081

---
Great choice! The best scramble I ever did for scenery value/per wheeze. I went with a buddy on a fall day a couple years ago. We had great, though cool, weather just like you.
http://www.youtube.com/watch?v=7uVkY-hdy_w
Headed for the Mountains
Join Date: Jul 2008
Location: Vancouver, British Columbia, Canada.
Posts: 191

---
yeah, the only one i've done that is in my opinion better for scenery is Mt. Wilcox further up the Parkway

huge views of the Columbia Icefields, it was amazing

but Cirque is very comparable. you have a good view of two icefields ( Wapta and Waputik )

the only place I think is better to get a view of those is from the The Vice President ( Yoho National Park ) and quite possibly The President but i've not attempted that
Off the Beaten Path
Join Date: Mar 2007
Location: AB, Canada.
Posts: 941

---
It's amazing how much reward there is for such little time and effort, or as
DCIPHER
says, value/wheeze ratio

terria
, I noticed those cheek-tracks at the time; looks like a lot of fun! [

] We didn't see any recent signs of bears either (thankfully so, as I'm a little gun-shy right now from a recent grizzly bluff-charge experience).
Headed for the Mountains
Join Date: Jan 2008
Location: , ., Canada.
Posts: 372

---
One of our favorite hikes too....we do it almost everytime we take our hiking club to the Rockies....we will be going back there next summer and will do Helen Lake and Wilcox Pass again..
Posting Rules

You may not post new threads

You may not post replies

You may not post attachments

You may not edit your posts

---

HTML code is Off

---